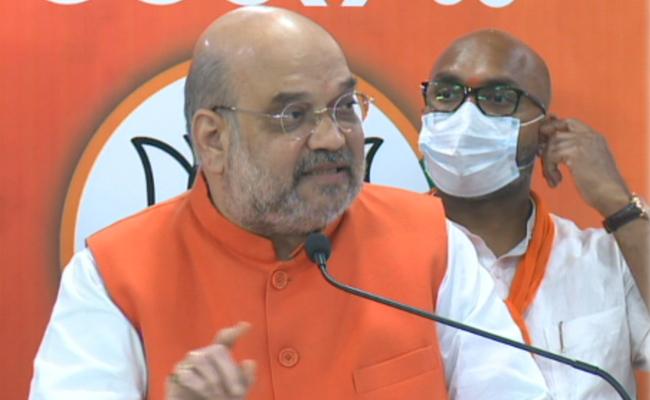 Former Bharatiya Janata Party president and Union home minister Amit Shah is likely to decide the candidate for the forthcoming by-elections to Tirupati parliamentary seat during his visit to the temple town on March 4.
Shah is coming to Tirupati to chair the 29th Southern Zonal Council meeting to be attended by chief ministers of six southern states -- Andhra Pradesh, Karnataka, Kerala, Tamil Nadu, Telangana and Puducherry, besides lieutenant governors of Andaman and Nicobar Islands and Lakshadweep, to discuss the issues concerning the south.
Sources said Shah might stay put in Tirupati for one more day to have darshan of Lord Venkateshwara.
He would also hold a meeting with the BJP leaders and give them a direction to fight the coming by-elections to Tirupati parliamentary seat.
However, it is not yet clear whether the candidate will be from the BJP or the Jana Sena.
While the BJP leaders are very keen on contesting the Tirupati by-polls, Jana Sena chief Pawan Kalyan, too, has been strongly lobbying for the seat.
Sources said Pawan Kalyan might also come to Tirupati to meet Amit Shah and a decision would be taken after that.
"Whether it is the BJP candidate or the Jana Sena candidate, both the parties will work together for the victory of the candidate," a Jana Sena leader said.