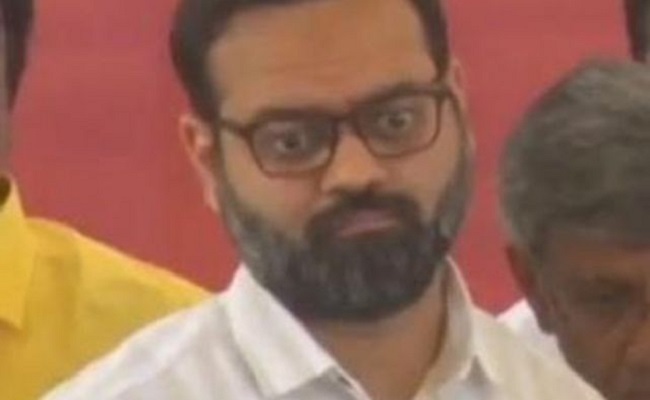 One might recall how noted political strategist and founder of Indian Political Action Committee (I-PAC) Prashant Kishor took the direct control of YSR Congress party's activity a few months before the 2019 assembly and Lok Sabha elections in Andhra Pradesh in 2019.
At the party's executive committee meeting, Jagan introduced Prashant Kishor to his party leaders and ticket aspirants in public and told them to follow the directions of the strategist.
In a way, Jagan made it clear that it would be I-PAC chief who would deciding the fate of the party – its electioneering and working out the strategies in each and every constituency in the state. The strategy worked wonders and Prashant ensure that Jagan came to power.
Now, Telugu Desam Party president and former chief minister N Chandrababu Naidu, too, is going in a similar manner. For the first time, he brought his party's political strategist – Robin Sharma – into the public.
At the party's extended executive committee meeting held on Saturday, Naidu introduced Robin Sharma to the party leaders and told him how he would be working out plans for each constituency. He asked the party leaders to follow the strategies given by Sharma.
Hitherto, Robin Sharma was doing behind the curtain activity. Now that elections are just 16 months away, the TDP chief stepped up his activity and started touring districts extensively, while his son Nara Lokesh is getting ready for the marathon padayatra from Kuppam to Ichapuram.
Apparently, Naidu thought it is the time, Sharma takes a direct control of the party activities, since both father and son would be busy with their own programmes.
Sharma, who is designing innovative programmes like "Badhude Badhudu," "Idhem Kharma," and "Mallee Maro Mahila," explained in detail how the party should gear up to face the coming battle.
According to party sources, it was Robin Sharma who had come up with the idea of Naidu's latest "Now or Never" slogan.
He told the party leaders to take the message strongly into the people that they would lose a life-time opportunity to get good governance, if they do not elect Naidu to power this time.
Sharma asked the TDP leaders to be available to the people at the grassroots level and turn the situation in their favour.
"It is time you people mingle with the people and explain to the people the good work done by the TDP government in the past. We need to be aggressive and pungent in our attacks against the government," he told them.
Sources said Robin Sharma is extremely good at adopting new technologies and it would be interesting to see how these technologies would come to the rescue of the TDP in the next elections.