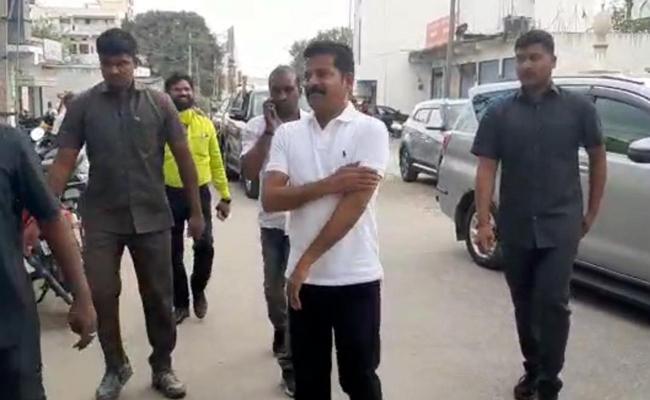 Telangana Pradesh Congress Committee working president and firebrand MP from Malkajgiri A Revanth Reddy was arrested on Thursday for allegedly trespassing into the private property belonging to Telangana Rashtra Samithi working president and Information Technology minister K T Rama Rao at Janwada village of Ranga Reddy district a couple of days ago.
The police belonging to Narsingi police station in Cyberabad limits took Revanth Reddy into custody soon after he landed at Shamshabad airport from New Delhi.
The police told him that he was being arrested for allegedly using drone cameras without permission at the farmhouse of KTR in Janwada village. Already, five of Revanth's followers have been taken into custody.
On Monday, Revanth Reddy was prevented by the police from barging into the premises of KTR farmhouse. The police also detained former Chevella MP Konda Vishweshwara Reddy who was accompanying Revanth.
The TPCC leader alleged that KTR had illegally constructed a farmhouse at Janwada village that falls under Gandipet Gram Panchayath of Ranga Reddy district.
He said the construction was in violation of GO No. 111, which prohibits setting up industries and other structures within a 10-kilometre radius of the Himayatsagar and Osmansagar tanks.
Revanth told reporters than that KTR had spent Rs 25 crores to build the farmhouse in the land with an estimated worth of Rs 250 crores.