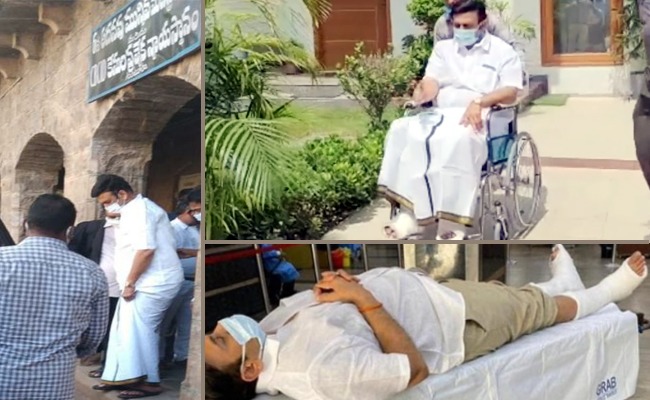 Popular saying is "Time heals everything". But this is probably not working in the case of Raghu Rama Krishnam Raju.
The leg injury he reported on Day 1 is not healing but seems to be becoming painful day by day.
Here are the series of of glimpses:
- After the police took him to custody, he was first seen getting down from the car and walking into the Court without any support. Many understood that Mr Raju has physical endurance to withstand the beatings of police looking at his majestic walk.
- Later he was seen showing his foot from the car window with a smile while going to the Army Hospital. He appeared like an invincible leader who was implying 'my foot' with this act.
- After a few days, he was seen getting down from the car without any problem while going to the AIIMS hospital. Someone honored him with a shawl for his achievement and Mr Raju stood straight and sturdy.
- But suddenly the next day he was seen with both bandaged feet while going home from AIIMS. Two men helped him to walk while getting down from the car with bandaged feet. He appeared like Gandhiji walking with the support of Abha and Manu.
- He was seen with bandaged legs and in a wheelchair after a few days while going to Rajnath Singh's house.
So, within a few days after the police custody and his allegation that the police have hit him hard on the feet, his condition has deteriorated from a majestic walk at the Court to the wheelchair at Rajnath Singh's house.
Could this be a rare thing in Raghu Rama Krishnam Raju's medical condition? This is the question that is rising in many heads while observing the deteriorating condition of his legs from Day 1 eventually.
He was treated by the doctors in Government Hospital-Guntur, Army Hospital in Secunderabad and AIIMS in Delhi. But the feet that made him walk freely are seen with bandages which is disturbing his fans and followers.
What is happening? Are the doctors really treating his legs properly or making them worse is the question posed by his fans.
Can the hospital authorities release a health bulletin on this rare medical condition?