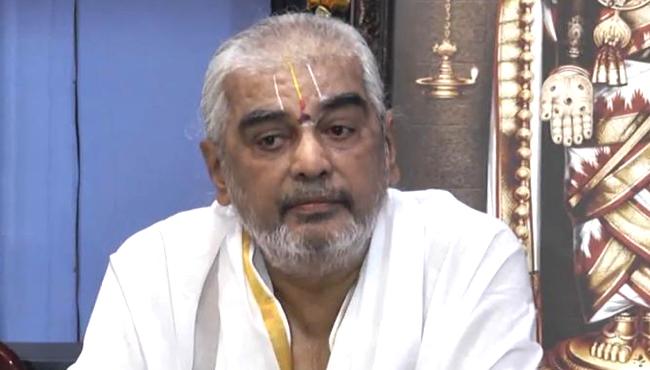 It looks like honorary head priest of Lord Venkateshwara Swamy temple in Tirumala A V Ramana Deekshitulu has decided to put up a confrontationist stand against Tirumala Tirumala Devasthanams.
Notwithstanding a mild reprimand from TTD trust board chairman Y V Subba Reddy asking him not to make public statements on the Tirumala affairs but take up any issues directly with the trust board, Deekshitulu has been continuing his Twitter war against the TTD.
On Saturday, Deekshitulu tweeted again reiterating his demand for the closure of the temple for pilgrims' darshan in the wake of increasing Coronavirus cases among the priests of Tirumala temple. So far, nearly 180 people including 18 priests tested positive for Coronavirus.
He said the pilgrims would not lose anything if the darshan would be stopped for a few days, but the priests should not contract the virus.
"The priests have to perform the daily rituals for the God. If they test positive, the daily pujas will come to an end and it is not good for the humanity," he said.
Deekshitulu demanded that the darshan should be stopped at least for a few weeks and priests be allowed to perform pujas everyday in Ekantam (solitude). As usual, he tagged chief minister Y S Jagan Mohan Reddy and TTD chairman Y V Subba Reddy to his tweet.
The honorary priest could have spoken to Subba Reddy or TTD executive officer Ashok Kumar Singhal to put forth his request, but the way he chose to highlight his demand on twitter shows he is fighting against the TTD and the government.
Let us see how the Jagan government will react to this situation.