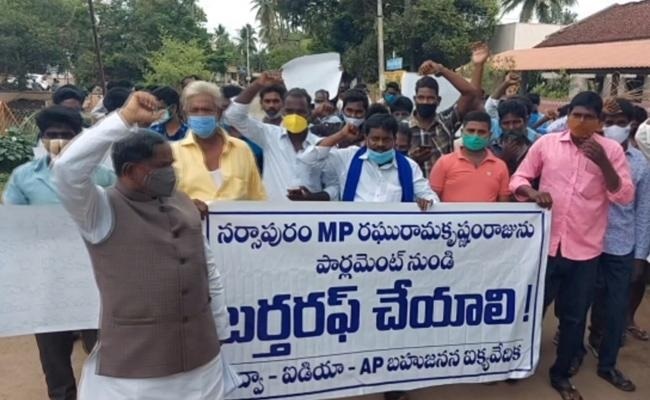 After a long silence by the people of West Godavari district, some of them came out in open on Sunday taking out a rally seeking disqualification of Narasapuram MP Kanumuri Raghurama Krishnam Raju.
The activists led by United Forum of AP Bahujanas conducted a massive rally in Narasapuram raising slogans against the MP, who had been speaking against the party leadership for the past one year.
The activists also lodged a complaint with the local police stating that the MP is missing and had betrayed the voters who elected him.
They also set on fire the effigy of the defiant MP, who is speaking against the party leadership and the state government every day.
Meanwhile some Dalit activists lodged a complaint against the MP at Garagaparru village in West Godavari district.
They alleged that the MP had made derogatory remarks against the Dalits over a period.
The activists alleged that the MP had not visited the constituency after his victory.
They also said that the MP was speaking against the party which had given him B Form to contest the election and win.
Defying the leaderships directions or speaking against the leadership would attract the provisions of the Anti-Defection Law, they said and wanted the MP's disqualification without delay.