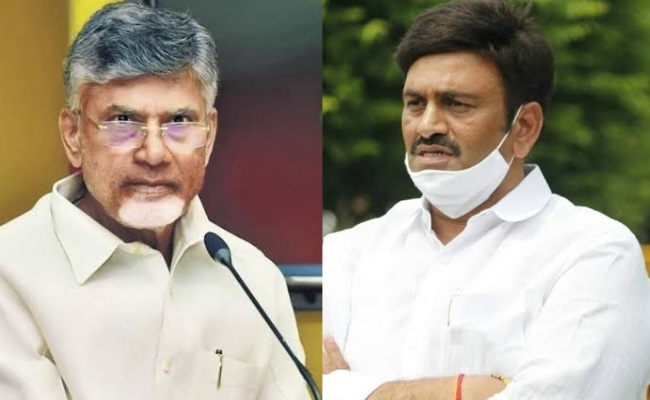 The announcement made by YSR Congress party rebel MP from Narasapuram Kanumuru Raghurama Krishnam Raju that he would resign from his MP seat soon is likely to land Telugu Desam Party president and former Andhra Pradesh chief minister N Chandrababu Naidu in deep trouble.
Raju may resign from his MP seat and also the YSRC next week. He announced that he would contest the by-elections from Narasapuram parliamentary constituency to prove that the people are against the Jagan Mohan Reddy government.
He also declared that he would also fight the by-elections on the plank of retaining the capital city at Amaravati and show that the people are against the three-capitals plan.
Raju also hinted that he would contest the by-elections on other political party, mostly the Bharatiya Janata Party, and definitely not as an independent. If he contests on the BJP ticket, he is expecting support from Jana Sena Party and the TDP.
The rebel MP's decision is going to be a challenge to Naidu, if not the BJP or Jana Sena Party. If Raju wins the seat, it would be a morale booster for the three opposition parties and they can experiment with the alliance in the coming assembly elections as well. If not with the BJP, the TDP might be more than happy with an alliance with Jana Sena Party at least.
Similarly, it is also give a big boost to the demand for retention of the capital city at Amaravati. In a way, it is an endorsement to the fight of the TDP for Amaravati capital, which is being supported by Jana Sena as well as the BJP.
However, it is not so easy for Raju to win the Narasapuram parliamentary seat. YSRC president and chief minister Y S Jagan Mohan Reddy will never ever concede the seat to Raju, as he knows it would strengthen the opposition in the state, particularly the TDP.
So, he will move all his forces and mobilise all his resources to win the by-election at any cost. Unless there is huge anti-incumbency wave in Narasapuram, it is very difficult for the opposition to wrest the seat.
If YSRC wins the seat, it may not be the end of the road for Raju or the BJP, but it will definitely be big setback for the TDP.
For, it would mean the alliance with BJP and Jana Sena may not work out for the yellow party. Secondly, Naidu cannot go to next assembly elections on Amaravati capital plank.
So, Raju's challenge is going to be an acid test for him or the BJP, but for the TDP and its president N Chandrababu Naidu, say analysts.