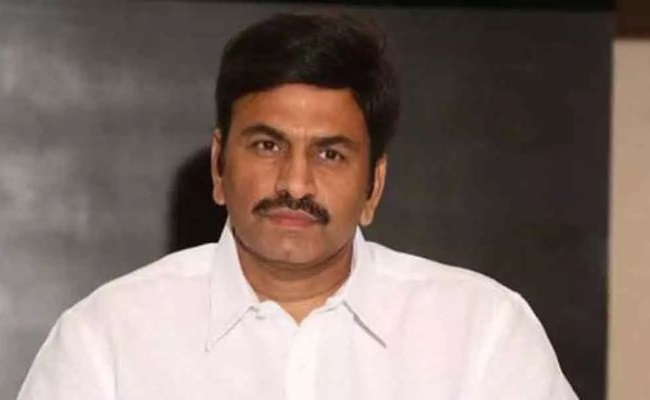 Rebel YSR Congress party MP from Narasapuram parliamentary constituency Kanumuru Raghurama Krishnam Raju seems to be desperate to get expelled from the party at the earliest so that he can choose his future course of action in politics.
Almost every day, he has been attacking the Jagan Mohan Reddy government by holding Racha Banda with media persons in New Delhi, besides dashing off letters to chief minister Y S Jagan Mohan Reddy, hoping that he would be expelled from the party.
But the YSRC leadership has chosen to ignore him despite his provocative statements.
The party has already submitted a petition to Lok Sabha speaker Om Birla asking him to disqualify Raghurama Krishna Raju from the Lok Sabha membership and has been patiently waiting for the Speaker's decision.
On Sunday, when Jagan Mohan Reddy held a video conference with his party MPs to discuss the party strategy in the monsoon session of Parliament, Raghurama Krishnam Raju also got an SMS from the parliamentary party office on his mobile.
But within minutes, he got another call from Andhra Pradesh Bhavan officials that there was no permission for the Narasapuram MP to attend the video conference. Raju felt it to be a signal for him that he is no more a member of YSR parliamentary party.
Speaking to reporters on Monday, Raju said he was told not to attend the MPs' meeting stating that he was not a member of the parliamentary party.
"I asked them to give it in writing that I am no more connected to the party. If I am given the party whip, I have to abide by it. If I am not given anything, they should give the same in writing. I think they have expelled me from the party," he said.
The MP said he would take a call on what to do next after discussing with the legal experts.
"However, I am not going to resign from the party. I have won on my own strength. Since Jagan and his group of MLAs had violated the poll promise of continuing Amaravati as the capital, they should resign," Raju demanded.