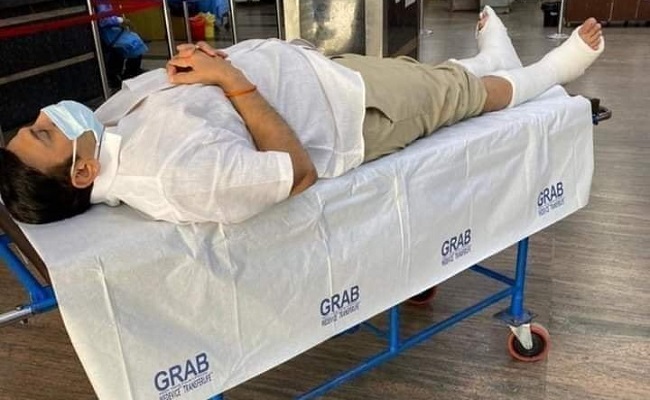 Even after the doctors at the military hospital in Secunderabad discharged rebel YSR Congress party MP K Raghurama Krishnam Raju on Wednesday stating that his health condition is normal, the doctors at the All India Institute of Medical Sciences (AIIMS) declared that he still needs rest.
Immediately after his discharge from the Secunderabad hospital, Raju flew to Delhi in a special flight and tried to get admitted to the AIIMS.
However, the doctors there said there was no need for admission, but asked him to come on Thursday for a medical examination.
On Thursday, the AIIMS doctors conducted all tests on him again, including CT Scan, MRI and other examinations.
They reportedly told him that there was a lot of cell damage in his feet and so, they bandaged his legs with Plaster of Paris material.
According to reports from Delhi, the AIIMS doctors told him not to walk under any circumstances and take complete rest for at least two more weeks. Later, they sent him back to his official residence.
It would mean Raghurama Raju would not be able to attend to any type of interrogation by the CID authorities in the Sedition case. For now, he got a reprieve in the case.