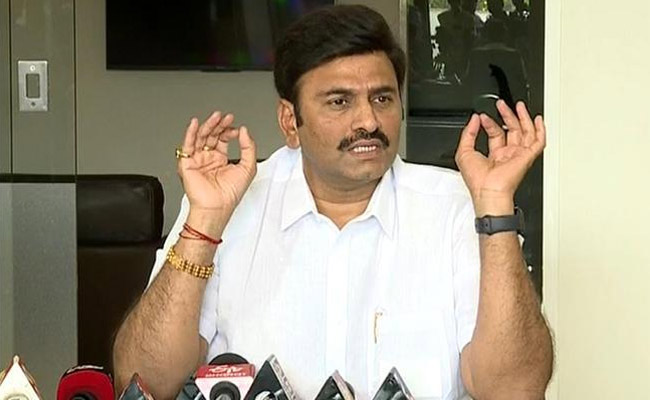 Defiant MP K Raghurama Krishnam Raju is now set his eyes on YSR Congress Parliamentary Party leader V Vijayasai Reddy.
The MP had filed a petition in the CBI court seeking cancellation of Vijayasai Reddy's bail.
He had already filed a petition in the CBI court seeking cancellation of Y S Jagan Mohan Reddy's bail.
The court is hearing the case and had posted the case for August 25, 2021.
The CBI had filed its written petition on the issue after several adjournments and repeated directions from the CBI court.
While the issue is still under hearing process, the MP had set his eyes on the Number Two in the YSR Congress.
Raghurama Krishnam Raju alleged that Vijayasai Reddy, who is the co-accused in all Jagan Mohan Reddy's cases, was influencing the witnesses and wanted his bail to be cancelled.
It may be mentioned here that Vijayasai Reddy had written letters to Prime Minister Narendra Modi seeking action against Raghurama Krishnam Raju for violations of Money Laundering Act.
Vijayasai Reddy had also given representation to Lok Sabha Speaker Om Birla seeking disqualification of Raghurama Krishnam Raju.
In response to the petitions against him, Raghurama Krishnam Raju had filed a petition in the court targeting Sai Reddy.
While the petition on Jagan's bail is yet to be cleared, it is to be seen how the CBI court would react to a fresh petition seeking Sai Reddy's bail.