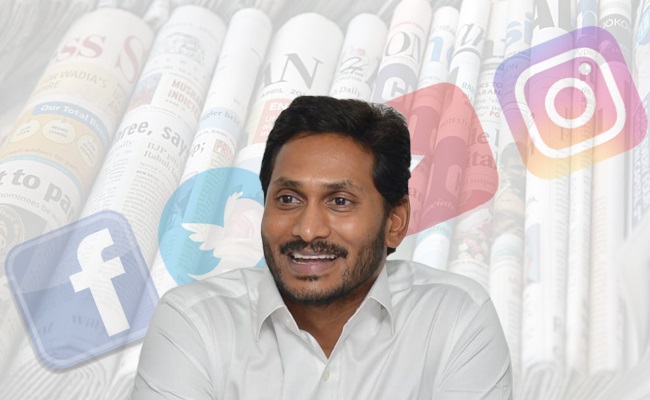 One of the main reasons for the YSR Congress party led by Y S Jagan Mohan Reddy losing the assembly elections in Andhra Pradesh in 2014 was lack of proper media support, especially the social media, which was not so powerful those days.
However, between 2014 and 2019, the YSRC had gained a lot of strength from the social media groups and also small and medium newspapers at the district level. They gave extensive media support at the grassroots level, building public opinion against the then Chandrababu Naidu government and also in support of Jagan, especially during his padayatra period.
While Indian Political Action Committee (I-PAC) led by political strategist Prashant Kishore played a significant role in strengthening the social media network across the state, YSRC general secretary V Vijay Sai Reddy also developed his own network of social media activists to secure political mileage for the party.
Naturally, all these small and medium newspapers, local television channels, social media groups and even YouTube channels who helped building up public opinion in favour of the YSRC at the grassroots level, had expected some benefits from Jagan, after he came to power.
Though some social media activists close to Sai Reddy were accommodated in the form of PROs and other jobs in various ministries, many of these media groups have faced neglect, let alone getting any financial help from the government.
The Information and Public Relations Department, which was expected to support them at least in the form of advertisements, has completely ignored them. The officials at the helm of affairs in the department started feeling as if they were next to the chief minister.
As a result, these media groups are said to be gradually distancing from the YSRC and its government.
"If the same situation continues, these same groups might turn against the government. Since they are well aware of the grassroots realities, they might not hesitate to turn the tide against the government and that would be a huge negative factor for YSRC in the next elections," a media analyst said.