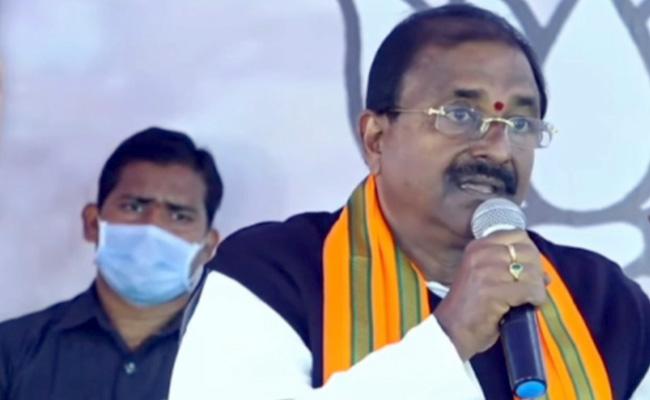 Believe it or not, a poor man can save on an average Rs 2 lakh every year if he can get a liquor bottle for a nominal rate of Rs 50.
Well, this is the argument of Bharatiya Janata Party Andhra Pradesh unit president Somu Veerraju, who made a promise to the people the other day that if BJP is voted to power in the state in 2024, it would supply liquor to the poor at Rs 50 per bottle.
Defending his promise at a press conference on Wednesday, Veerraju said he made the statement consciously and after a lot of brainstorming.
"This was not an off-the-cuff comment. It was a well thought-out statement, keeping in view the affordability of the poor people. It will be included in the BJP election manifesto in 2024," he said.
The Andhra BJP president said if liquor is sold at Rs 50 a bottle, a poor man can save at least Rs 2 lakh a year which would help run his family.
"I don't encourage selling a liquor bottle, whose original cost is Rs 6, to be sold at Rs 200," he asserted.
He alleged that the state government was looting the poor people in the name of liquor. "That is why, I have come up with the idea of selling liquor for Rs 50," he said.
Referring to the tweet of Telangana minister K T Rama Rao taking pot shots at him, Veerraju wondered it was a sheer hypocrisy.
"KTR should tell us what his father does all through the night till 3 am the next day," he commented.
But what Veerraju failed to understand is that if the liquor is available at cheaper rates, the poor people addicted to liquor will not be content with one bottle.
He will consume more liquor every day and will not save any money, as being imagined by the BJP leader.
That will ruin not only his health, but also his family more than what it is now. That is why the governments in the past banned cheap liquor. How did Veerraju miss this simple logic?