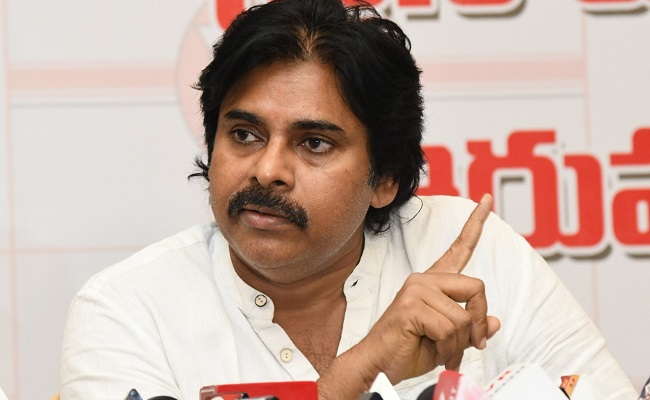 Any political party will analyse its own strength and weakness and try to make an assessment of how many seats it can win in the elections, so that it can work out the strategies accordingly.
But power star and Jana Sena Party president Pawan Kalyan is not bothered about how many seats his party will win in the next elections in Andhra Pradesh, but is predicting how many seats the ruling YSR Congress party is going to win.
Speaking at a party meeting at Mangalagiri on Sunday, Pawan Kalyan said according to a survey conducted by him, the YSR Congress party led by chief minister Y S Jagan Mohan Reddy will at the most 47-67 assembly seats.
"The people are disgusted with the Jagan Mohan Reddy's rule, as he has not fulfilled the promises made to them. They have realised their mistake of voting for the YSRC in the last assembly elections and they are paying penalty for the same," Pawan Kalyan said.
On his own party's prospects of coming to power, the Jana Sena chief said he had floated the party to question the parties in power about the public issues.
"I have floated the party not to come to power, but to question the governments and serve the people," he said.
Stating that floating the party was the best thing he had done in his life, the power star said he was prepared to face debacles again and again till he achieved success in the electoral politics.
"My objective is not coming to power immediately. I believe in fighting for the people and I shall continue to do that. I will march ahead with courage and commitment to realise my objective in a long-drawn battle," he said.
Pawan Kalyan announced that he was deferring his proposed state-wide bus yatra from October 2, coinciding with Gandhi Jayanti. He said he would first conduct constituency-wise reviews to assess the situation before embarking on the yatra.
He said there was a growing support to Jana Sena Party and in the next elections, the party would make its present felt in the assembly.