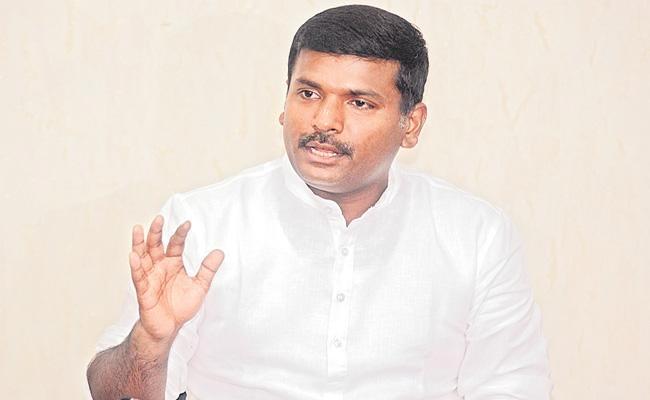 The YSR Congress party leaders across Andhra Pradesh strongly condemned the vitriolic and illogical speech made by Jana Sena Party chief Pawan Kalyan on Thursday.
Equating Jana Sena and TDP of having the same wavelength to betray people, Minister for Fisheries and Animal Husbandry Seediri Appalaraju said that Pawan Kalyan is protecting TDP interests.
"Pawan Kalyan is reading the script prepared by TDP and is passing derogatory comments on the YSRCP government. Why is he talking about the backwardness of North Andhra after 2019 and not before while his ally TDP was in power? Did Naidu threaten to cut his package if he had raised his voice then?" the minister questioned.
Referring to the migration of fishermen, Minister Appalaraju questioned whether Jana Sena chief was aware of their plight.
"No one focused on the establishment of harbours in the State after Independence. It was YS Jagan Mohan Reddy who took the initiative for nine fishing harbours and is taking care of fishermen", he said.
Roads and Buildings Minister Dadisetti Raja said that Pawan Kalyan's aspiration is to save and serve TDP but not his cadre.
"From the beginning of his political career, Naidu and Pawan Kalyan are on the same wavelength, betraying the people, justifying the adopted son title. Pawan Kalyan made it clear that he is not capable of competing with YS Jagan Mohan Reddy," Raja slammed.
The minister reminded that only around ₹11,000 crore investments per annum were brought by the TDP from 2014-19 but the YSRCP government has now raised the bar.
"The investments now have increased to ₹15,000 crore per annum and many works have been grounded in the YSRCP government, despite facing the COVID pandemic," he said.
Minister for Industries and Commerce Gudivada Amarnath slammed Pawan Kalyan for giving false hopes to the Kapu community.
"The Jana Sena leader has been behaving as if he has the patent to speak on behalf of the Kapu community while he is trying to pledge its interests to Chandrababu Naidu who abused Vangaveeti Ranga family," the minister said.
He faulted Pawan for not criticising the TDP chief who cheated every section of the society during his five-year rule.
Speaking about the recent deaths in rallies of Chandrababu Naidu, Amarnath said, "Instead of consoling the families of people who died in stampedes during the TDP rallies, Pawan Kalyan has unabashedly consoled Naidu who was solely responsible for their deaths. Pawan may be a hero in movies but he is acting like a villain in politics."
He further added that "Y S Jagan Mohan Reddy will remain a permanent hero in politics".
Revenue Minister Dharmana Prasada Rao also criticised Pawan Kalyan for being a seasonal politician and not being serious about his role.
"The actor is imprudently quoting revolutionary poets like Sri Sri and balladeers like Vangapandu in his public meetings but he is criticising a leader like Chief Minister Y S Jagan Mohan Reddy who has only been following their teachings in letter and spirit and implementing various welfare schemes for the weaker sections," Prasada Rao said.
The revolutionary poets wanted to uplift the weaker sections and YSRCP government's welfare programmes are only aimed at their elevation in society, he said, pointing out the contradiction lying between the actor's statements and actions.