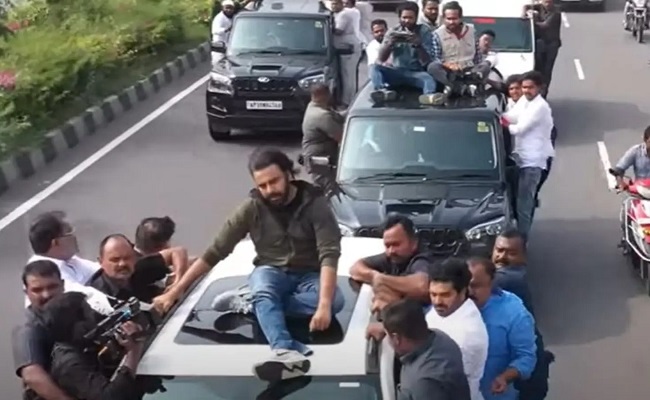 Power star and Jana Sena Party chief Pawan Kalyan's attempt to catch the public attention with his so-called heroic act of travelling atop a speeding car to Ippatam village in Guntur district of Andhra Pradesh landed him in a police case.
On November 5, Pawan travelled atop his SUV in a filmy style, accompanied by enthusiastic fans in other cars and bikes raising slogans, to Ippatam village to call on the people whose houses were demolished as part of road widening by the local municipal authorities.
Videos of the Jana Sena chief sitting on the roof of his SUV, relaxed, with his feet stretched out, went viral in the social media. His security persons had a tough time while dangling on the side of the car to ensure his safety.
Pawan Kalyan's fans were also seen riding on their bikes, filming the unusual event. Some of the people who watched the show even wondered whether his so-called heroic act amounted to violation of traffic rules.
Five days later, the Tenali town police booked a case against Pawan Kalyan and his driver for his heroic act. One local P Siva Kumar of Morrispet village lodged a complaint with the police on Friday night about the rash driving by Pawan and his driver.
According to the FIR, the actor was sitting on his car (No. TS07GG2345) carelessly, while the driver was driving it in a rash and negligent manner at high speed, followed by other vehicles.
Siva Kumar complained that he was driving his two-wheeler and on seeing Pawan going atop his car, he failed to control his bike and had fallen down on the road. The police booked a case under Section 336 and 279 IPC r/w 177 Motor Vehicles Act.
Interestingly, the complaint was lodged an hour before Pawan Kalyan met Prime Minister Narendra Modi!