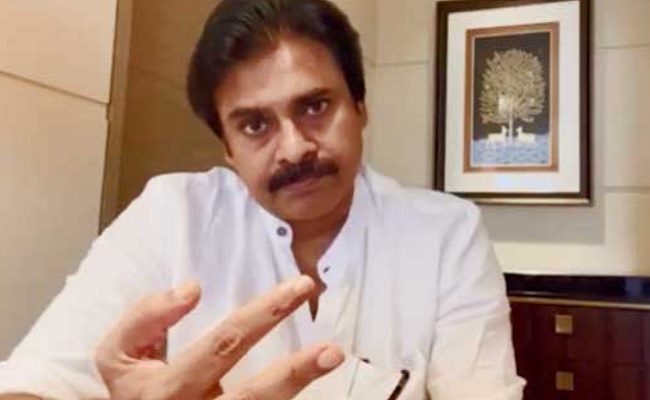 One might quote the popular Telugu adage: "Aloo ledu, chuloo ledu, koduku peru Somalingam" (There is no wife, no pregnancy; but he has already named his son as Somalingam).
This will aptly apply to Jana Sena Party, headed by power star Pawan Kalyan.
It was only on Monday evening that he had disclosed his mind on the need for the like-minded parties joining hands to pull down YSR Congress party led by chief minister Y S Jagan Mohan Reddy from power in the next elections.
He did not directly make any statement on alliance with the Telugu Desam Party, because he already has an understanding with the BJP and there is no guarantee that it would appreciate forging an alliance with the TDP.
Yet, the Jana Sena Party leaders have come to a conclusion that there would be an alliance between their party and the TDP, with or without the BJP.
A message, purported to have been sent by Pawan Kalyan to his party cadre has been in circulation in the social media in this regard.
The message says all the party leaders and cadre should abide by the decision of the Jana Sena Party chief that in the present circumstances, only a TDP-Jana Sena alliance can bring down the ruling party, which would also help strengthen the party in the coming days.
According to the message, Pawan has tentatively decided that TDP would contest in 100 assembly seats, while Jana Sena would restrict itself to 60 seats. The remaining 15 seats could be left to the BJP, if it agrees to join the alliance.
With regard to parliament elections, the TDP would contest 15 seats, while the Jana Sena would contest from six seats and the remaining four would be reserved for the BJP.
It appears Jana Sena has already identified the seats which it would contest. They include: Kadapa town, Rayadurgam, Anantapur town, Madakasira, Kadiri, Nandikotkuru, Guntakal, Kalyanadurgam, Nellore city, Tirupati, Gangadhara Nellore, Kanigiri, Adoni, Pithapuram, Tenali, Vijayawada Central, Gannavaram, Vijayawada East, Kakinada Rural, Kakinada City, Mandapeta, Tuni, Rajahmundry, Narasapuram, Peddapuram, Ramachandrapuram, Razole, P Gannavaram, Jaggampeta, Rampachodavaram, Bhimavaram, Unguturu, Tanuku, Gajuwaka, Machilipatnam, Penamaluru, Markapuram, Bhimili, Anakapalli, Parvathipuram, Cheepurupalli, Vizianagaram, Rajam, Palakonda, Amudalavalasa, Saluru, Visakha (West), Pendurthi, Anaparthi, Kovvuru, Eluru, Polavaram, Gopalapiram, Nuzveedu, Pedana, Bapatla, Sattenapalli, Darsi, Atmakuru and Venkatagiri.
The six MP seats, which Jana Sena would like to contest from are: Kakinada, Narasapuram, Eluru, Machilipatnam, Nellore and Tirupati.
Apparently, Pawan wants that the alliances and seat sharing should be done well in advance, so that the alliance partners would have a lot of time to prepare the leaders and cadre for the elections.
It remains to be seen how these parties would overcome the disgruntled leaders who would lose the opportunity to contest the elections.