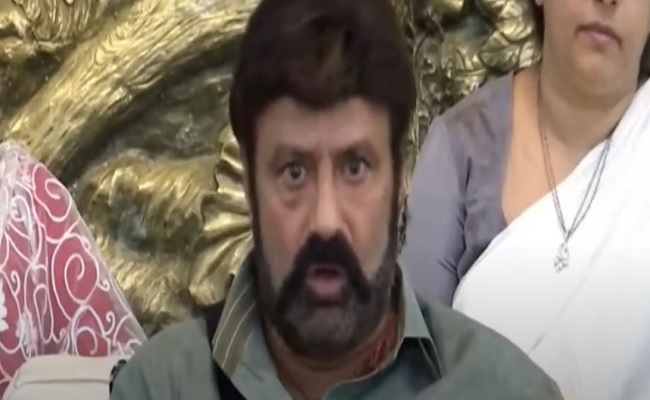 Sometimes the medicine turns as a poison for a patient. Right now Chandrababu's crying in press meet has become the talk of Andhra Pradesh politics.
While many TDP supporters expected overall sympathy to the party with this episode, the press meet by Bala Krishna and his family members spoiled the entire mood and disappointed the TDP cadre and party workers.
The entire press meet was held without any emotion. It was like a lip sympathy and namesake statements by all the family members.
Above that Lokeshwari, the sister of Balakrishna also gave warning at the end that the ruling people might have to see the other side of NTR's family if they continue this kind of insults further. Balakrishna also warned in his style.
The party that expects sympathy cannot give warnings. If it is strong enough to stand by warnings, the party head should not cry. This mismatch of acts diluted the sympathy wave and everything is being looked as a drama.
On the other hand Balakrishna talked about vachakam (words) and aangikam (physical acts) of some leaders in the Assembly. He might have forgotten that he once said in an audio function that a man should make a woman pregnant in the first sight.
While giving explanation to this in the Assembly, he shouted on the then opposition party member with the words, "hey! koocho" (hey! sit down) with a disgusting grimace. Why didn't he mind his vachakam and aangikam at that time? There were many moments he uttered filthy words in the public.
Adding to that Nandamuri Chaitanya Krishna, one of the family members of Balakrishna said, "My sisters Kumudini, Seemanthini and Suhasini are all orthodox. They don't drink and sleep with others...".
Why should he talk like this? Already this video is being circulated as a meme.
This kind of lame talk makes the Nandamuri family a laughing stock to the general public.
Nandamuri Ramakrishna also couldn't express in the way that he should. Even Balakrishna's wife Vasundhara gave a namesake byte. The better speaker like Kalyan Ram was not seen in the group.
When one cannot do something with proper effect they have to keep silent. Or else, everything gets spoiled.
Usha Chowdhary
Click Here for Latest Direct-to-OTT Releases (List Updates Daily)