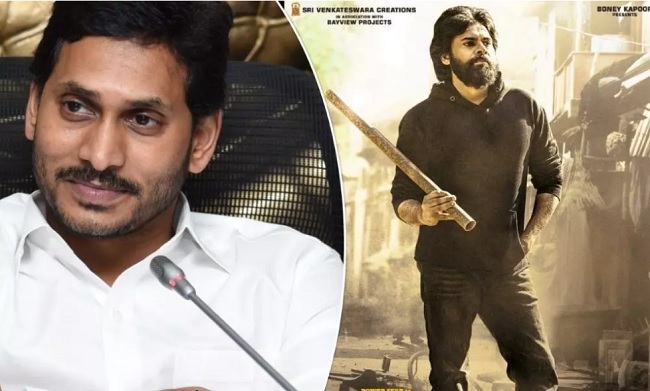 YS Jagan Mohan Reddy has been winning the hearts of the people and that is clearly evident by the way the YSRCP swept in the recent Panchayat and Municipal elections.
His revenge mode on TDP leaders is also welcomed by the people as that has shown no negative effect in the polls.
People saw YS Jagan Mohan Reddy as the main victim of Chandrababu's government. The deliberate troubling tactics by the TDP government on YS Jagan resulted in the sympathy wave for the latter and the people made him the Chief Minister with thumping majority ever.
When Jagan's government moved ahead by booking all TDP leaders for their wrong doings, the people didn't complain at all. They have been in the mood of seeing it as a reality show with revenge drama.
But for the first time the present government of Andhra Pradesh made a mistake by victimizing someone who is not his long standing enemy.
The proposal to keep the ticket prices of "Vakeel Saab" high for the first week was turned down by the High Court with the involvement of the government. The GO also doesn't carry any logic. It mentions different fixed prices for different theatres located in different regions. The classification is based on Corporations, Municipalities andGram Panchayats.
When the liquor is being sold at the same prices in all the regions, when the electricity charges are the same in all the areas, then why different ticket prices for theatres?
On the other hand such decisions should be taken by deputing a proper committee. But the quick action to curb the collections of Vakeel Saab seems to be a deliberate political attack in the eyes of the common man.
Moreover, it is not Pawan Kalyan who is going to be affected financially. The distributors who bought the film at higher prices are at huge risk now. They are the only who are going to be suffered with this collateral damage.
Besides, the hike in ticket prices is a benefit for the government as the receivable tax also will be correspondingly high. Now, the situation is prone to black market as the theatre owners may sell the tickets at their desirable prices outside the counter.
Next upcoming big films are Chiranjeevi's Acharya and Rajamouli's RRR. Will the government apply the same GO for those films as well? If yes, the YSRCP makes many enemies in the film industry. If No, the action taken only on Vakeel Saab will be remembered forever by the public. Both ways, there is no advantage for the party.
Any warrior who conquers a kingdom by applying force should be able to treat the people of the conquered kingdom with love and affection. If he victimizes some of them for no valid reason, it can be the genesis point for negative sparks.
Whoever has given the idea to trouble Vakeel Saab on ticket prices, is not wise enough.
Usha Chowdhary
Click Here for Latest Direct-to-OTT Releases (List Updates Daily)