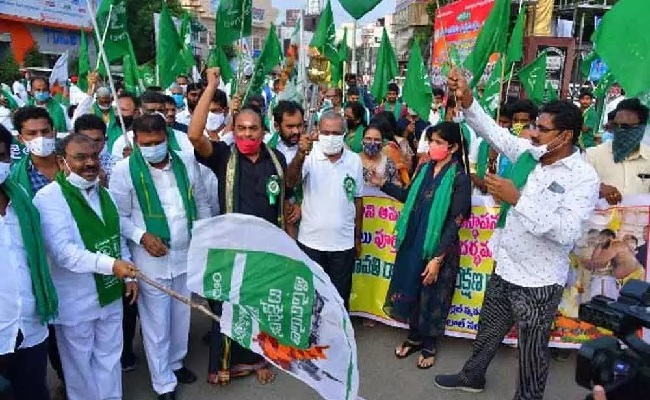 With the threat of Omicron, a new variant of Coronavirus looming large on the entire country, including Andhra Pradesh, the proposed public meeting of Amaravati farmers at Tirupati on December 17 seems to be unlikely.
The police have already rejected the applications of the Amaravati farmers' joint action committee for the public meeting, which is going to be the culmination of their 45-day-long padayatra from Nyayasthanam (high court) to Devasthanam (Tirupati temple).
Initially, the farmers proposed the public meeting at Sri Venkateshwara University grounds, but the university authorities refused permission. Later, they chose a private land on Tirupati-Chennai highway and applied for the police permission.
But the police authorities refused the permission because of Covid-19 restrictions, as it involved mass gathering of thousands of people. The police said the high court had given permission only for padayatra, not for public meeting.
In a bid to pre-empt the farmers from making it a big issue, some other political organisations also applied to the police for holding public meetings on the same day.
The police refused permission to them and then, showed this as an excuse to deny permission to Amaravati farmers as well.
As the farmers' JAC is planning to move the high court to obtain permission for the public meeting, the Tirupati police got an excuse in the form of Omicron virus.
The state government has already sounded high alert and has started imposing strict restrictions on gathering of masses in large numbers, as per the Central government guidelines.
Even if the farmers go to the court, the police and the state government could strongly argue that it was not advisable to allow such mass gatherings as there is a possibility of a third wave of Coronavirus.
The high court, too, may not take the risk of allowing the public meeting at this stage.