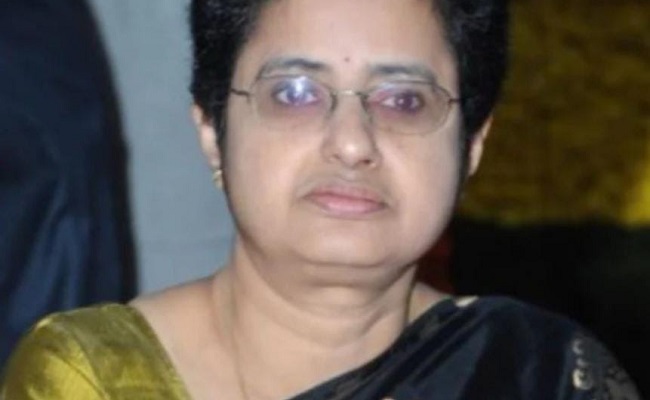 Kanthamaneni Umamaheshwari, daughter of legendary actor, Telugu Desam Party founder-president and former Andhra Pradesh chief minister late N T Rama Rao, died allegedly by suicide at her residence in Jubilee Hills on Monday.
Uma Maheshwari was reportedly facing some health issues and was under treatment for the last few months.
On Monday, she was reportedly found hanging to the ceiling fan in her bedroom. The Jubilee Hills police have shifted the body for autopsy while a case was registered.
Umamaheshwari was the fourth and the youngest daughter of senior NTR, the others three being Lokeshwari, Purandeshwari and Bhuvaneshwari.
Her sudden death shocked the family members of NTR and all of them rushed to her residence in Jubilee Hills.
Her brother-in-law and TDP president N Chandrababu Naidu, who is presently in Hyderabad, reached her house along with his family. The sad news was passed on to her children who staying abroad.
Umamaheshwari, who initially had a love marriage with a Kerala industrialist Naren Rajan, divorced him later as there were reports that he was allegedly torturing her.
Later, she got married to Kanthamaneni Srinivasa Prasad and settled abroad. She returned to Hyderabad a few years ago.
The residence at Banjara Hills Road No. 13 belonged to Umamaheshwari. It was here that her father NTR died of heart attack in January 1996.
Later, NTR's second wife Nandamuri Lakshmiparvathi stayed there for a long time, before NTR's sons forced her to vacate. The house was later given for development for a commercial venture.
Umamaheshwari, who always maintained a low profile, surfaced before the media in November last, when she strongly condemned the alleged derogatory comments made by some YSR Congress party members against her sister Bhuvaneshwari, wife of Telugu Desam Party president N Chandrababu Naidu.
Very recently, she performed the marriage of her younger daughter in Hyderabad, which was attended by all the family members of NTR.
It was here that Naidu had patched up with his co-son-in-law Daggubati Venkateshwar Rao and both of them had a hearty talk.