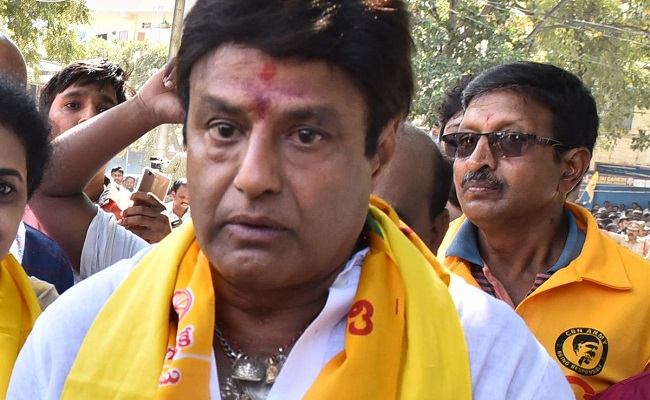 Nearly 10 days after the Y S Jagan Mohan Reddy announcing the naming of newly-formed Vijayawada district after legendary actor and former chief minister of Andhra Pradesh N T Rama Rao, the latter's son and senior actor Nandamuri Balakrishna reacted strongly.
Balakrishna, who has been agitating for declaration of Hindupur town as the district headquarter of newly-formed Sri Satya Sai district, told reporters that there was no sincerity in naming Vijaywada district as NTR district.
"This is just a political stunt. It was done only to divert the attention of the people from the bad rule of Jagan Mohan Reddy. Everybody knows what kind of affection this government has towards NTR," he said.
Balakrishna pointed out that even after the Jagan government announced the formation of NTR district, his party workers continued demolition of NTR statues at several places.
"There has been no action against them. If the Jagan government really has any love and respect towards NTR, will it allow such demolitions?" he asked.
He demanded that if Jagan has real love towards NTR, he should continue the welfare schemes introduced by Chandrababu Naidu government it the name of NTR.
"The chief minister should also issue a statement condemning the vandalising of NTR statues by the YSRC cadres," he said.
Balakrishna, who represents Hindupur assembly constituency, led a massive rally from Hindupur to Anantapur to submit a representation to the collector demanding that the town be declared as the district headquarters.
"We don't mind naming the Hindupur as Sri Satya Sai district, but the town should be made as the district headquarters. If necessary, we shall meet chief minister Y S Jagan Mohan Reddy in this regard," he said.