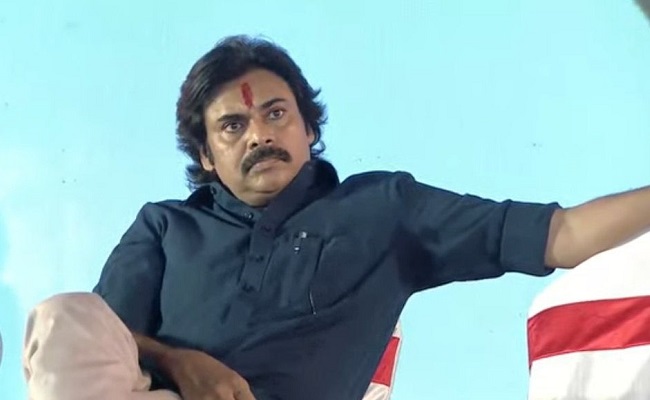 At last, power star and Jana Sena Party president Pawan Kalyan has come out with some clarity with regard to forging alliances with other opposition parties to defeat the YSR Congress party in the next elections.
Addressing his party workers at Mangalagiri office, Pawan Kalyan, took a complete U-turn on his party's friendly relations with the Bharatiya Janata Party.
It was only in the morning he had said that he doesn't have much acquaintance with the state BJP leaders, though he has good relations with BJP national leadership.
He also declared that he had no information about BJP national president J P Nadda's visit to Rajahmundry to take part in a rally on June 6 and said there was no question of him meeting Nadda.
But by evening, he changed his tune. He categorically said his party would continue to have an alliance with the Bharatiya Janata Party.
"It is true that there has been a gap between the two parties for quite some time. We could not take up any joint programmes because of Coronavirus. We shall work out join programmes hereafter," he said.
With regard to the alliance with the Telugu Desam Party, Pawan said it all depended on the response from the TDP leadership.
"Earlier, the TDP said it was showing one-sided love towards Jana Sena. Now, it says it will be a one-side war in the next elections. Let it decide how it wants to go," he said.
He reminded that the Jana Sena had supported the TDP-BJP combine in 2014.
"We came down several steps in the past in the interest of the state. It is for the TDP to come down this time. It is better the TDP leaders remember the Bible preaching: Those who humble themselves will be exalted," he said.
Pawan clarified that he has three options before him with regard to alliances: one, Jana Sena will go to polls in alliance with the BJP; Jana Sena along with BJP and the TDP will go to polls together: and third, Jana Sena will go it alone in the elections.
"Let the TDP and the BJP will decide on this," he said.
With his statement, he made it very clear that there will not be any alliance between the TDP and Jana Sena, without the BJP.
So, he doesn't want to dump the BJP to join hands with the TDP. But it is doubtful whether the BJP will agree to the TDP joining the alliance!