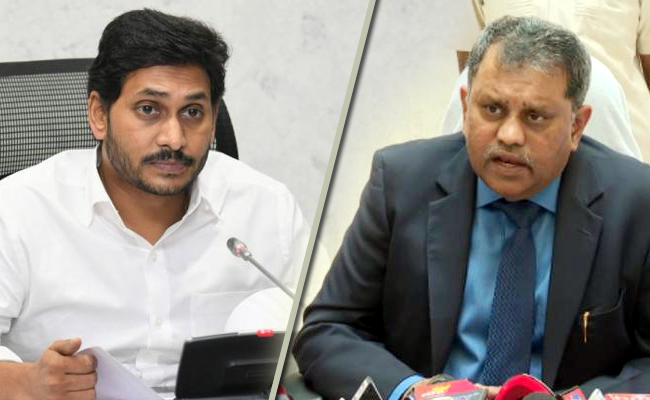 Suspense continues over the conduct of elections to gram panchayats in Andhra Pradesh, as the state high court on Tuesday reserved its judgement on the matter, after hearing heated arguments by both the counsels of both State government and also state election commissioner.
A division bench of the high court headed by chief justice A K Goswami and C Praveen Kumar heard the review petition filed by state election commissioner Nimmagadda Ramesh Kumar challenging the single judge bench's order suspending the election schedule for gram panchayat elections in February.
The notification for the first phase of gram panchayat elections is scheduled to be released on Thursday. It is expected that the high court will deliver its judgement by Wednesday.
The high court bench heard the arguments of both the sides, but struck down the implead petitions filed on behalf of the state government employees and teachers challenging the election schedule of Nimmagadda.
On Tuesday, senior advocate Adinarayana Rao, on behalf of the SEC, argued that the situation of Coronavirus pandemic was gradually turning to normalcy and life had become route. There were absolutely no hurdles for the conduct of local bodies, he said.
He pointed out that the SEC would not get any personal benefits by conducting the elections in February, except that it would be a Constitutional obligation. He argued that the vaccination process, which had just begun, would not be any hurdle in the conduct of local bodies.
The counsel for SEC also brought to the notice of the high court that the courts could not interfere in the election process, once the schedule was announced. "This was the Supreme Court order in the past," he pointed out.
The high court will examine the relevant provisions and past cases before delivering its judgement. Let us wait and see who will have the last laugh in the case: will it be Jagan or Nimmagadda!