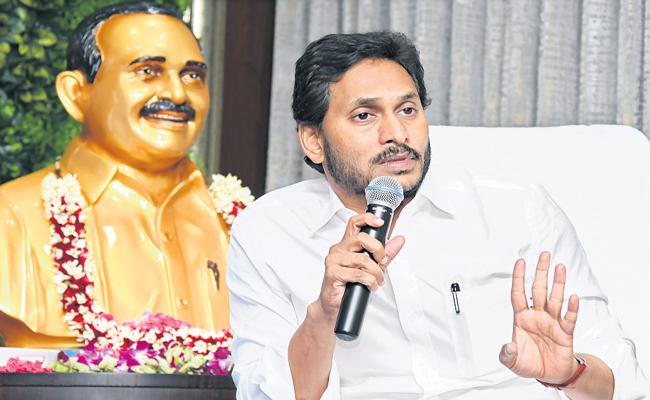 With just around a year left for the assembly elections in Andhra Pradesh, YSR Congress party president and chief minister Y S Jagan Mohan Reddy is coming out with more and more innovative schemes to attract voters.
On Friday, Jagan has proposed a new initiative in the name of "Jagananna Ku Chebudaam" (Let us bring it to Jagan's notice), aimed at achieving saturation in the implementation of welfare schemes and ensuring that no eligible beneficiary is left out of any scheme.
The programme, according to official sources, will put the officials on toes and make them resolve any pending issue pertaining to the people.
In fact, it is a sort of refined programme of already existing programme "Spandana" wherein the government is receiving representations from various sections of people on various issues.
However, over a period of time, Jagan has realised that the grievances of the people being reported during the Spandana programme are not being attended to properly at the grassroots level and the same people are coming to the Spandana programme with the same grievances.
Under "Jagananna Ku Chepudaam" scheme, the people can directly bring their grievances to the notice of the chief minister if they are not resolved at the Collectors' level during Spandana programme.
Jagan directed that the officials get ready to implement this new programme.
"Every grievance will be attended properly so that there would be complete satisfaction to the people who bring them to the notice of the chief minister," he said.
He instructed that the officials of every department track the progress of the grievance redressal mechanism till the people are completely satisfied. The action taken reports have to be submitted to the chief minster every week. The progress of the scheme has to be reviewed on weekly-basis, Jagan directed.