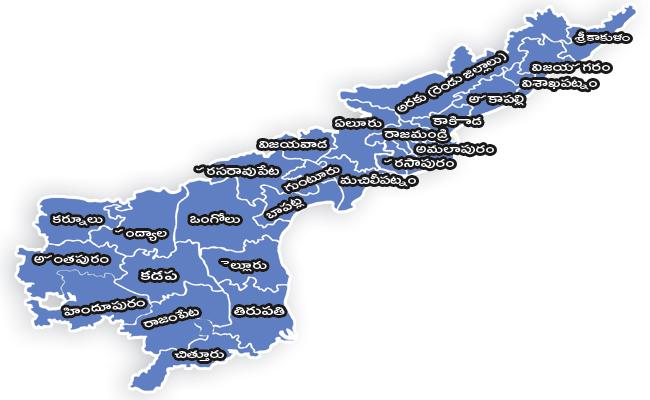 After a long wait of seven years of bifurcation, Andhra Pradesh government had announced the creation of new districts in the state.
Telangana state had already completed this exercise in the second year of bifurcation.
The government proposed 26 districts against the present 13 districts, taking Lok Sabha constituency as criteria for creation of new district.
Araku being the largest Lok Sabha constituency, the government had proposed to make it two.
While an official notification is yet to be out, Sakshi had published an image of the new districts, which shows that the existing Lok Sabha constituency was proposed as new district.
If Lok Sabha constituency is the criteria for creation of new districts, that would be the most unscientific exercise.
The boundaries of the Lok Sabha constituencies would change in the next delimitation or the delimitation to be held a little later.
This would mean that the Lok Sabha constituency is not a permanent boundary to be considered for creation of a revenue district.
The areas have special connection with some other areas. People of one area have identical attachment with the people of another area.
Above all, there is a historical background for every region to prove its identity and it is not known whether such a study was done by the officials. Practically, no such consultation was done or any such academic exercise was carried out.
As it appears, Srikakulam, Vizianagaram, Prakasam and Nellore districts would remain, mostly, as they are now.
Parvathipuram or Bobbili are not considered for the districts in Vizianagaram, while Markapur is ignored for a new district in Prakasam.
Konaseema region in the Godavari belt and Palnadu region in Guntur districts require district status, which is to be fulfilled by the government.
In Krishna district, people of Nuzvid area are culturally and geographically connected with Vijayawada, while it is now part of Eluru Lok Sabha (proposed district) constituency.
Besides, these small objections, the names of the districts too are important.