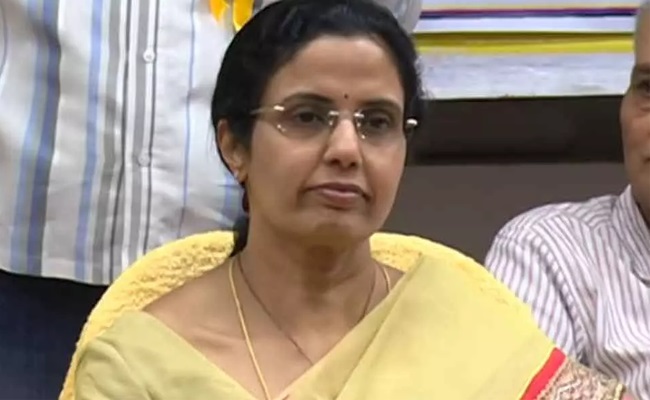 Telugu Desam Party president N Chandrababu Naidu's wife and legendary actor N T Rama Raos' daughter Nara Bhuvaneshwari came out with a statement on Friday, exactly a week after her husband broke down alleging humiliation to her by the YSR Congress party members in the state assembly.
In the statement made in the capacity of Managing Trustee of NTR Memorial Trust, Bhuvaneshwari expressed her gratitude to all those who had raised their voice in protest against the unsavoury comments made against her in the state assembly.
"You have all reacted as if the humiliation was meted out to your own sister, mother and daughter and stood by me. I will never forget this gesture in my life and I am thankful to each one of you," she said.
Stating that her parents had brought the children up with values, Bhuvaneshwari said she and all her siblings were still following the same values.
"Everybody should strive for creating a value-based society and stand by those who are in distress and troubles," she said.
She said she hoped nobody else should face the kind of humiliation meted out to her.
"Nobody else should behave disrespectfully towards others and indulge in their character assassination," she advised.
Interestingly, Bhuvaneshwari did not mention in her statement any names of individuals or their political affiliations responsible for the comments against her.
She also did not take her husband's name nor the agony caused to him, which led to his crying in public.