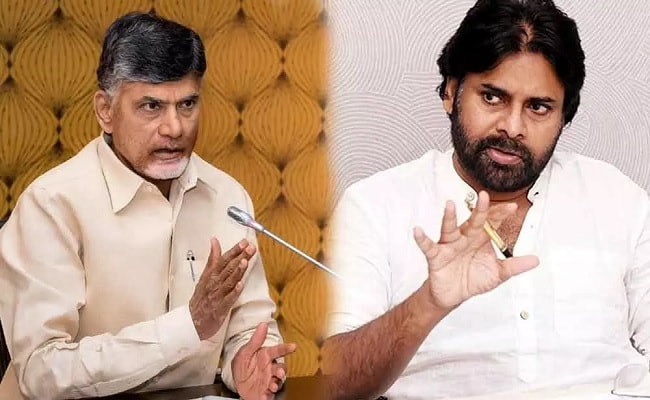 Who is the political heir of Telugu Desam Party president and former Andhra Pradesh chief minister N Chandrababu Naidu?
It is not his son Nara Lokesh nor his nephew N T Rama Rao, but Jana Sena Party chief and actor Pawan Kalyan.
This is the prediction of YSR Congress party leader and chairperson of Andhra Pradesh Telugu-Sanskrit Academy Nandamuri Lakshmi Parvathi.
"Very soon, you will come to know who is the political heir of Chandrababu Naidu. He will be Pawan Kalyan not Lokesh," she said, adding that Pawan Kalyan has been following the directions of Naidu and is reading out the script prepared by the TDP leaders in criticising the Jagan Mohan Reddy government.
Meanwhile, YSRC leaders continue to target Pawan Kalyan for his outburst against the Jagan government.
State minister for education Adimulapu Suresh told reporters on Friday that Pawan Kalyan had become a big burden for the state.
"The Jana Sena leader says he has read thousands of books. Is it correct on his part to talk about castes in politics? He is a non-serious politician. He comes out once in a while and provokes caste groups with his meaningless talk," Suresh said.
Stating that this was not the right way for Pawan to grow in politics, the minister said it was unfortunate that the Jana Sena chief had been using provocative language.
"He doesn't have an agenda of his own. He is blindly following the TDP philosophy," he said.