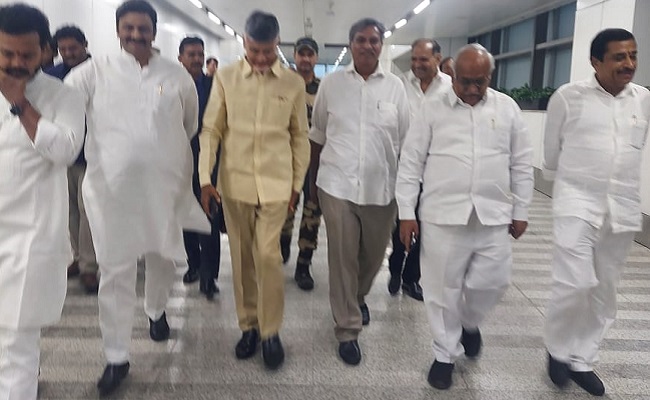 TDP chief N Chandrababu Naidu arrived in the national capital on Saturday evening. He will be attending the G20 consultative meeting chaired by Prime Minister Narendra Modi on Sunday.
Accompanied by MPs Kesineni Srinivas and Kanakamedala Ravindra Kumar, he flew from Hyderabad to Delhi.
At the Delhi airport, Chandrababu Naidu was welcomed by party MP Kinjarapu Ramohan Naidu, former MP Kambhampati Rammohan Rao, and others.
YSR Congress rebel MP K Raghurama Krishnam Raju also went to the airport and greeted Chandrababu Naidu upon his arrival.
Later, Naidu, along with Kesineni, Kanakamedala, Kinjarapu, and Kambhampati, met with Union Home Minister Amit Shah.
It is surprising that Chandrababu Naidu excluded Raghurama Krishnam Raju and only took his party leaders to the meeting with the union home minister.
Raghurama Krishnam Raju, who joined the TDP four years ago, has been loyal to the party and Chandrababu Naidu. He is also anticipating a TDP ticket to contest in the next election.