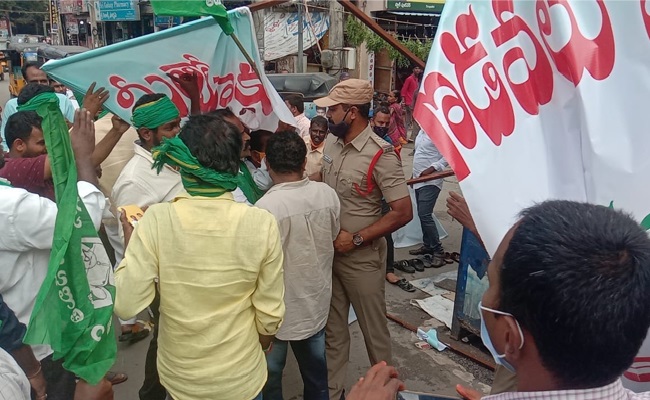 The much-publicised 45-day padayatra of Amaravati farmers demanding that the capital city of Andhra Pradesh be retained at Amaravati, concluded at Alipiri, the foothills of Tirumala in Tirupati on Monday evening.
The padayatra, christened as "Nyayasthanam to Devasthanam" and began on November 1 at Thullur, entered Tirupati town in the morning and went through eight kilometre route to end at Alipiri, where they were received by the workers of various opposition parties, mostly Telugu Desam Party.
The farmers broke 101 coconuts at the foothills and raised "Govinda, Govinda" and "Jai Amaravati" slogans.
However, the proposed public meeting of the Amaravati farmers at Tirupati is still in a state of uncertainty, as the Tirupati (urban) police denied permission to them on the pretext that it would be in violation of the Covid-19 norms.
On Tuesday, the Amaravati JAC leaders moved the state high court seeking permission for the public meeting at Tirupati. The high court posted the matter to Wednesday.
"We shall take a decision as per the court directions," the JAC leaders said.
There is a talk that the meeting would be confined to closed doors with a limited number of people, instead of a huge public meeting.