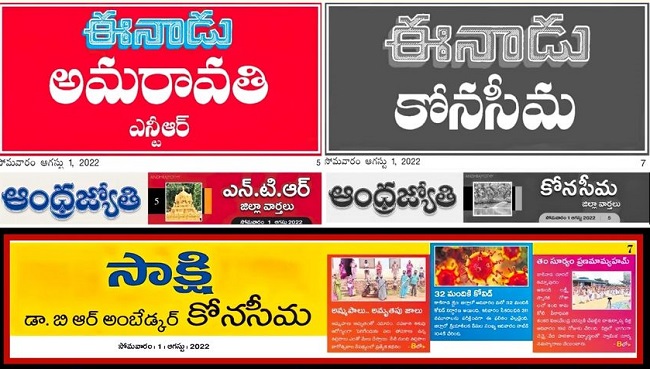 The reginal media in Andhra Pradesh appears to be caste biased, if one goes by the way it identifies the new districts in the state.
The media was so quick to add Amaravati in its editions list once it was announced by the TDP government in 2016.
Though the print media have their offices and editions in Vijayawada, they changed it as Amaravati edition in no time.
When the YSR Congress government created new districts and changed the names, the media changed the names immediately.
The print media has district editions like NTR, Annamayya, Alluri Sitaramaraju and so on. But, when Konaseema was renamed as Dr B R Ambedkar Konaseema district, the media has not accepted it.
Except the Sakshi media, no other media in Andhra Pradesh named its district edition as Dr B R Ambedkar Konaseema, which is the official name of the district.
Eenadu and Andhra Jyothi, who are owned by Kammas, support Kamma politics, are yet to add Dr B R Ambedkar's name to the Konaseema district.
The followers of Ambedkar have been trolling the media houses in the social media for the past two days, but the media is yet to open its eyes.
Ignoring the official name which is declared through a Gazette is what the media in AP does, much to the dislike of the people.