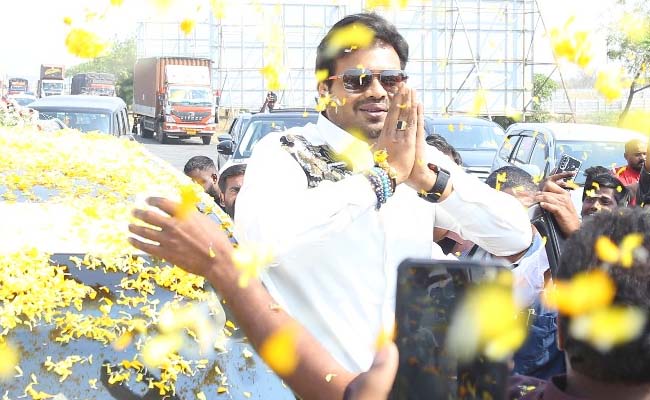 The newly married couple, Manchu Manoj and Bhuma Mounika, made a grand appearance from Hyderabad to Allagadda today.
After the wedding, Manchu Manoj left for his mother-in-law's house. A convoy of 15 vehicles rushed towards Allagadda, drawing everyone's attention.
Although sisters Akhilpriya and Maunika have had differences, it is noteworthy that they both met on the auspicious occasion of Maunika's marriage.
It has been reported that Shobha Nagi Reddy's elder sister helped to reconcile the sisters.
In any case, Akhilapriya, her younger brother Jagat, and her husband Bhargavram attended Maunika's wedding, which was celebrated with grandeur by Manchu Lakshmi Prasanna. The wedding was lively.
Today, Bhuma's family reception is being held in Allagadda, which is a special occasion. As soon as Manchu Manoj and Mounika left their home in Hyderabad to attend the event, it became a matter of media attention.
All of this is part of a plan that Manoj and Mounika have carefully orchestrated.
Maunika has high political aspirations, and there is speculation in Kurnool district that this is a preview of how the Maunika couple will behave politically in the future.
It is known that Maunika is articulate and has a good understanding of politics and society. With her supportive husband Manoj by her side, there is speculation that she will be successful.
It would be a mistake to think that the massive convoy and the carefully arranged media coverage were not part of a political strategy.
The question now is how they will use their family name to advance their political goals in Kurnool district.