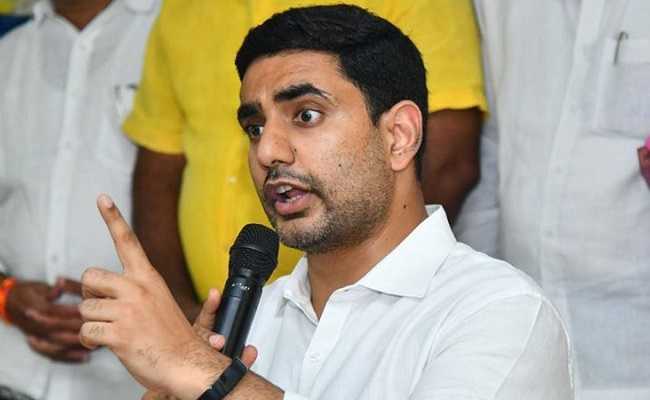 As expected, Telugu Desam Party general secretary Nara Lokesh, who was expected to resume his Yuva Galam padayatra from Friday night, has postponed his plan by an indefinite period.
This was conveyed by Lokesh to his party leaders and strategy committee through a teleconference from Delhi on Thursday afternoon.
The leaders had a meeting at Nandyal, where Lokesh's father and TDP president N Chandrababu Naidu was arrested on September 9.
According to the party leaders, the exact date when Lokesh would resume his padayatra has not been confirmed yet.
"We shall inform you as and when he decides the fresh date," sources said.
Lokesh was planning to resume his Yuva Galam padayatra on Friday from Podalada of Razole in East Godavari district, where he had stopped it on September 9 following his father's arrest at Nandyal.
However, the TDP general secretary received a rude shock from the Y S Jagan Mohan Reddy government, which implicated him in the Amaravati inner ring road scam and the Crime Investigation Department filed a memo in the ACB court to that effect.
The CID was getting ready to arrest Lokesh soon after he lands in Andhra Pradesh and send him to judicial remand.
To pre-empt his arrest Lokesh moved the high court seeking anticipatory bail in the Amaravati inner ring road scam, so that he can resume his Yuvagalam padayatra.
But the court is unlikely to take a call on his bail petition till October 4, when the vacation ends. So, till such time, Lokesh will stay back in New Delhi to prevent the arrest.
Though the CID has a chance to arrest him in New Delhi itself, it has to obtain a Prisoner Transit warrant from the local court, which is now closed due to holidays.
As per the original plan, Lokesh was to resume the padayatra on Friday irrespective of the anticipatory bail, as his wife and industrialist Nara Brahmani was getting ready to launch the padaytra in his place. But with the police denying permission to any of such yatras, the plan was dropped, sources added.