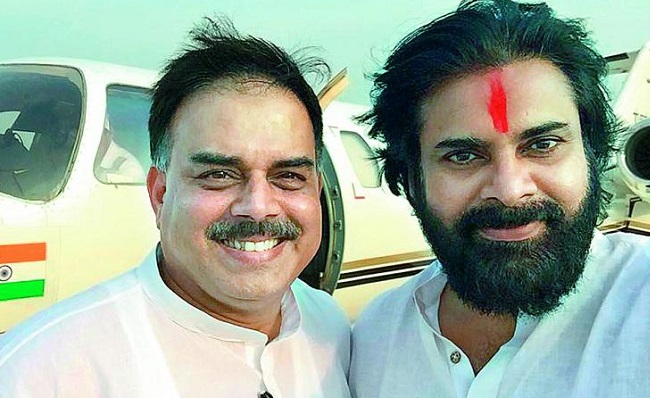 Whenever he makes an occasional public appearance, Jana Sena Party president and power star Pawan Kalyan has been sounding supremely confident of forming the government in Andhra Pradesh in the next elections.
While there has been a talk that he is holding behind the screen talks with the Telugu Desam Party for an alliance, Pawan has been appealing to the people to give him a chance to provide a clean government.
Well, there is nothing wrong in Pawan nurturing such ambitions of coming to power and becoming the chief minister. But what Pawan is not able to understand is that he alone is not enough to lead the party to victory in the elections.
The Jana Sena Party doesn't have a proper organisational structure so far, which is very much essential to bring the party to power. Secondly, there are no leaders worth mentioning in the party.
"When somebody talks of Jana Sena, the only names that come to one's mind are – Pawan Kalyan and Nadendla Manohar. One cannot find any other leader worth mentioning either at the state-level or at the district level. The party is suffering from severe leadership crisis," an analyst said.
For winning any elections, any party needs strong candidate, who have tremendous local influence, money power and cadre support. So far, the Jana Sena doesn't seem to have any candidates.
Pawan may be under the impression that the people would blindly vote for any candidate that he fields in the constituencies. That is why he has been appealing to the people to vote for the Jana Sena, without going by the credentials of the candidates, but that of Pawan Kalyan.
"This won't happen now. Gone were the days of N T Rama Rao, when people elected the Telugu Desam Party candidates going by the charisma of NTR four decades ago. Now, the voters have become intelligent. They are closely observing the candidates and their credentials, not by filmy charisma," the analyst said.
As of now, no major leader worth mentioning has joined the Jana Sena Party from other parties. Even if some leaders join before the elections, they are not sufficient for Pawan to come to power!