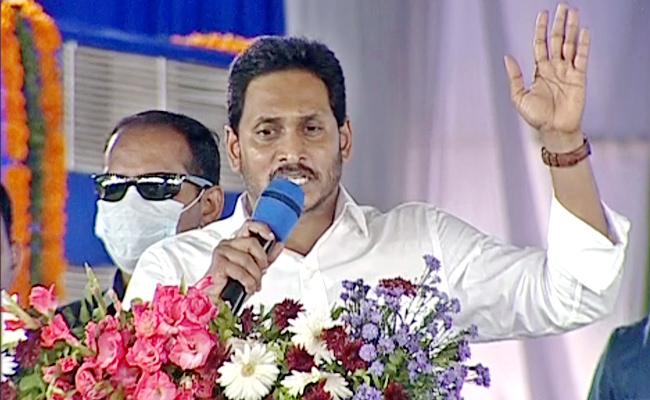 YSR Congess party president and Andhra Pradesh chief minister Y S Jagan Mohan Reddy on Friday kicked up a fresh controversy by saying that Kuppam assembly seat, which is supposedly represented by Backward Classes, has been usurped by Kammas.
Jagan, who took Kuppam by storm by addressing a huge public meeting here for the first time after coming to power, said the constituency was dominated by the BCs, who constituted majority of the population.
"So, it has to be represented by the BCs in the assembly. But Telugu Desam Party president who has no faith in social justice, has usurped the seat from the BCs and has been getting elected from Kuppam for the last 30 years," Jagan pointed out.
Describing Naidu as a non-local in Kuppam, the YSRC president said the TDP chief had no relation whatsoever with this constituency.
"He stays in Hyderabad and doesn't even have a house here. He has been hoodwinking the BCs here for votes. He knows how to use and throw BCs after getting elected," he alleged.
Stating that the YSRC had acknowledged backward classes as backbone classes for the society, Jagan said all the schemes being implemented by his government were aimed at uplifting the OBCs.
Asking the voters of Kuppam to defeat an outsider like Naidu in the next elections, Jagan promised that if the people of Kuppam elect local BC leader of YSRC K R J Bharat as the MLA, he would make him a cabinet minister and see that Kuppam is developed on all fronts.
The chief minister pointed out that Bharat, being an MLC, had ensured massive development in the last three years in Kuppam.
He reminded that the YSRC had swept all the local body elections in Naidu's constituency last year due to efforts of Bharat.
"The people of Kuppam had reposed their faith in the YSRC by voting for the Jagan government which is implementing welfare schemes and against the TDP which believes in looting. They taught a lesson to Naidu for cheating the backward classes," Jagan said.