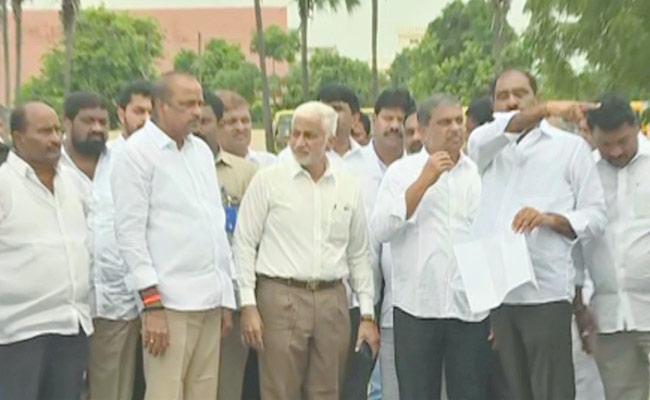 The ruling YSR Congress is set to launch its campaign for the 2024 general elections with a new slogan.
The party had won the 2019 general elections with a slogan of "Nenu Vinnanu – Nenu Unnanu" (I heard – I am there).
The YSR Congress also campaigned extensively with another slogan of Bye Bye Babu all through the campaign.
The party won 151 Assembly seats out of 175 and secured 49.75 per cent votes against the 39.26 votes the opposition TDP secured.
While the YSR Congress gained 84 seats in this election compared to the 2014 elections, the TDP had lost 79 seats.
Now, having completed three years in office, the YSR Congress is set to launch its campaign after the party's two-day plenary to be held from July 8.
This time, the party would go to the elections with single slogan – Kick Babu Out.
This was announced by its Parliamentary Party leader Vijayasai Reddy on Wednesday after visiting the party's plenary venue, opposite the Acharya Nagarjuna University.
He said that the plenary would also discuss the issues concerning the people and the party's Navaratnalu, which are being implemented in the state for the past three years.
Vijayasai Reddy visited the site along with party general secretary and advisor, Sajjala Ramakrishna Reddy, party disciplinary committee chairman Ummareddy Venkateswarlu, former home minister Mekathoti Sucharitha, MLCs Talasila Raghuram and Lella Appi Reddy, besides others.