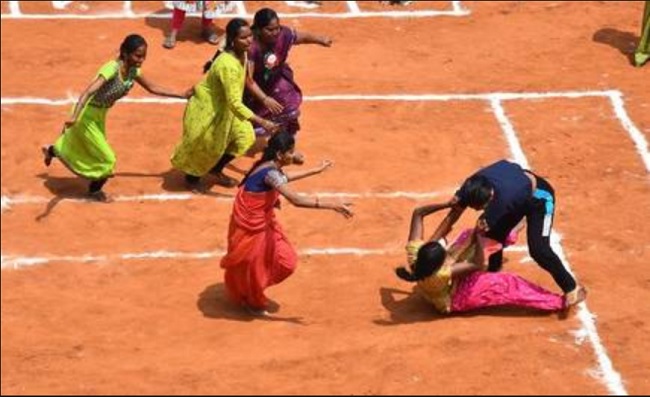 The absolute silence being maintained by chief minister Y S Jagan Mohan Reddy over three capitals issue is turning the protests in Amaravati more hilarious.
The protesters, who constitute mostly from one political party and one caste, are running out of ideas as the days unfold.
It has been close to 80 days that a pandal for protests was erected in Mandadam village, the key village of all the 29 capital villages, where the "farmers" have been holding protests against the three capitals proposal of the new government.
On Thursday, the protesters held kabaddi match in the pandal where the women were divided into two teams, one representing Amaravati and the other representing the three capitals. Obviously, the three capitals team lost.
Keeping aside the winner or the loser in the match, the episode, which lasted for nearly two hours, was quite amusing for those who watched it.
The women from the rich-dominant caste, who never come out and are confined to the kitchen or shopping were seen curiously by the onlookers as they play the game.
The women, who were mostly spotted in the big malls, were seen creating fun with kabaddi under the protest pandal covered with air coolers.
No caste from these villages is supporting this protest and they have stopped even visiting the protest pandal even once in a day, which happened earlier.
As the protesters run out of ideas and their actions expose their political and social affiliations to Amaravati, more people are not joining them even from the 29 villages, leave alone the rest of the state.
The caste and cash interests of these farmers are exposed, as they fear of losing their investments and speculative returns in Amaravati.
It is clear, even for an illiterate aged woman, that the protests are politically and financially motivated with the social background and not really interested in the development of the state.
The protesters are angry with the Jagan Mohan Reddy government for not allowing Amaravati to become a bigger Kukatpally (of Hyderabad) where one caste dominates the rest of the habitants.