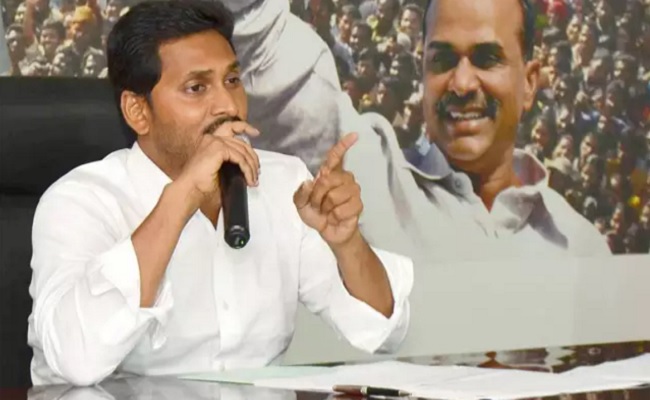 Whenever people talk about AP CM Jagan Mohan Reddy's approach towards his followers and well-wishers, people often draw comparisons with his father, Late. Y S Rajasekhara Reddy. Jagan always looks after his followers, well-wishers who believed him, worked hard for the success of YCP.
Many leaders who were close associates of YSR did not travel with Jagan after the demise of YSR. When Jagan left the Congress Party in unavoidable circumstances, those leaders deserted Jagan completely. Some of them didn't even visit Jagan when he was in jail.
On the other side, many leaders walked with Jagan with confidence that he has got the blessings and support of the people. Jagan had to face pressure from the ruling party, character assassination through Goebbels propaganda from the pro-TDP media.
Some leaders couldn't bear the pressure and left him midway. But many leaders believed in Jagan's leadership qualities have become MLAs, MPs, ministers now. Others were given good positions by Jagan.
There is a talk that Jagan is giving importance to Reddy community leaders but that's not true. He has never neglected the leaders who are with him through his thick and thin. Jagan has got the support of BC, SC, ST communities along with the OC communities.
Kodali Nani, Talasila Raghuram are always in his team and they do not belong to the Reddy community. Everybody knows the importance Jagan gives to them. It is not right to mention all the leaders' names caste wise but there is representation from all the communities in YCP and Jagan's cabinet.
There are leaders like Mopidevi Venkataramana, Pilli Subhash Chandrabose who had to go through so much pressure but they didn't leave Jagan. He has taken care of them by sending them to Rajya Sabha after they lost MLC seats.
Even though there are several industrialists who are ready to give crores of rupees to YCP for Rajya Sabha seat, he didn't choose them but he chose the leaders who are his well-wishers throughout his journey.
On the other hand, he has ignored the leaders who deserted him in his tough times. Narasapuram MP Raghu Rama Krishna Raju is an exception. He was in BJP in 2014 and he had severely criticized Jagan at that time. When Jagan gave him the YCP ticket in 2019 many people were surprised. Now, he is back to his own ways and started criticizing Jagan.
Jagan will not entertain the leaders who came to YCP out of political compulsions but not with faith in him. They may not stay for long in YCP. Jagan will not leave the leaders who have complete faith in him. He will go to any extent to support them. There are many such leaders in YCP who handled pressure when they were not in power. Now, they are enjoying respectable positions.