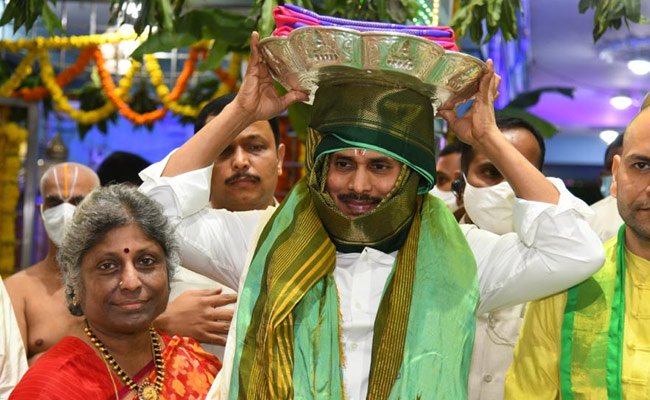 YSRCP president and Andhra Pradesh CM Y S Jagan Mohan Reddy's two-day visit to Tirumala temple on Wednesday and Thursday has virtually silenced critics who raised a hue and cry over his Christian faith.
Ignoring the demands of the Bharatiya Janata Party and Telugu Desam Party leaders for signing the declaration displaying his faith in the Tirumala Lord, the chief minister took part in the Brahmotsavam rituals and appeared like a typical Hindu all through the programme.
Jagan wore traditional attire of a Hindu devotee, sported the "Thiru Namam," got the silk turban tied on his head and carried the silk clothes on his head into the temple to present them to the Lord, on behalf of the state government, amidst chanting of Vedic hymns.
On Thursday, Jagan made the mouths of the BJP leaders shut by taking part in the Nada Neerajanam and Sundara Kanda Parayanam, the most spiritual programmes of the Hindus, along with senior BJP leader and Karnataka chief minister B S Yediyurappa.
All through these rituals, the YSRC president never appeared like a Christian but gave an impression to everybody that he is a staunch Hindu.
"The way Jagan conducted himself in the Tirumala temple is highly appreciable," said Dr M V Soundara Rajan, the 85-year old founder of Temples Protection Movement being run from Chilkur Balaji Temple, Hyderabad.
Soundara Rajan also recollected his long association with Jagan's father and former chief minister late Y S Rajasekhara Reddy, who also used to take part in Tirumala rituals despite being a staunch Christian.
Even Tridandi Srimannarayana Ramanuja Chinna Jeeyar Swamy extended his blessings to Jagan Mohan Reddy and endorsed his stand on Tirumala.