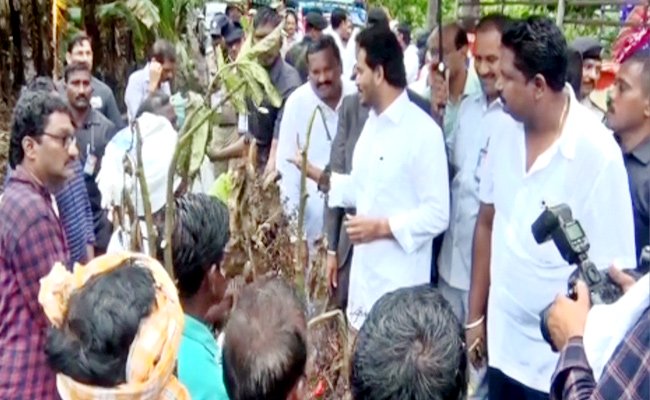 Better late than never. YSR Congress party president and Andhra Pradesh chief minister Y S Jagan Mohan Reddy's tour in the flood-affected areas of Konaseema district has made a huge difference to the ruling party, which was virtually on the back foot due lack of proper relief works in the region.
Braving heavy rain, Jagan preferred to travel by boats and then on tractors to the interior areas of island villages of Konaseema and interact with the affected villages. His personal touch to the people made all the difference to the ruling YSRC.
Since the chief minister himself was visiting the areas by road and boats, the officials had to be on their toes to see that there are no negative reactions from the people.
Though the yellow media made maximum efforts to project the negative side of the Jagan's administration, there were no adverse comments from the people during his tour.
He walked down in slushy fields and roads to reach out to the people and enquired about the relief measures being undertaken by the district administration.
He also made enquiries about the initiatives taken by the village volunteers during the floods.
Interestingly, the chief minister also enquired about the performance of the district collector and other officials directly from the people.
Even when some locals lodged a complaint to him about the tardy relief works, Jagan took them positively.
He assured that he would personally ensure that everybody would get the relief announced by him during the review meetings.
Unlike in the past, Jagan decided to stay back at Rajahmundry overnight and visit some more flood affected areas in Alluri Sitarama Raju district and Eluru district.
Needless to say, Jagan's personal visit brought the much needed relief to the local YSRC leaders who were otherwise incurring the wrath of the victims.
The party leaders were on the defensive following the last week's visit of Telugu Desam Party president N Chandrababu Naidu to all these areas.