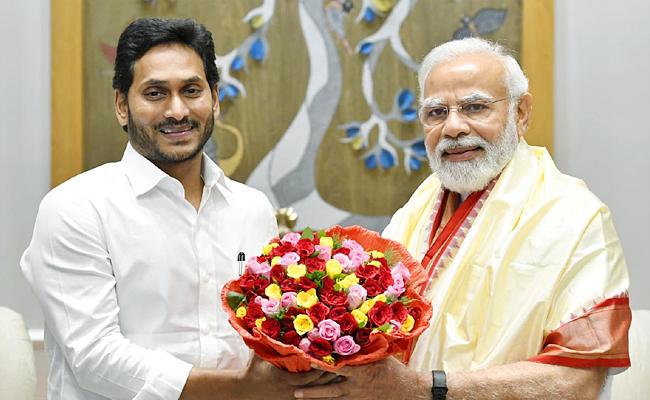 YSR Congress party president and Andhra Pradesh chief minister Y S Jagan Mohan Reddy, who hurriedly rushed to New Delhi on Thursday evening, had a meeting with Prime Minister Narendra Modi on Friday morning.
Jagan, along with his party MPs, came to Parliament and had an half-an-hour long meeting with Modi at the PM's chamber in the Parliament premises.
What transpired between Jagan-led delegation and the Prime Minister is being curiously watched.
As usual, the chief minister's office will any way send an official press release to the media in the evening stating that Jagan had taken up several pending issues with Modi, such as funding for Polavaram, special category status to AP, reimbursement of revenue deficit for 2014-15, pending assurances made in the bifurcation act, Kadapa steel plant issue etc.
However, sources close to the power corridors said the chief minister had discussed with the Prime Minister the issue of shifting of administrative capital to Visakhapatnam, as part of decentralized administration.
Since the capital issue is in the Supreme Court, it requires a concrete endorsement from the Centre on the three capitals proposal.
"If the Centre submits an affidavit in the Supreme Court, stating that it had no objection to the shifting of capital, it would make the things easier for Jagan," sources said.
According to these sources, Jagan had given a detailed explanation to the Centre over the advantages of Visakhapatnam as the administrative capital and disadvantages of Amaravati.
He brought to the notice of Modi about the response he had got from top industrialists of the country for his proposal to make Visakhapatnam as the executive capital.
In the same breath, he had asked for exclusive funds for taking up infrastructure works in Visakhapatnam, sources said.
Jagan, who would meet Union home minister Amit Shah later in the afternoon, would take up the same issue, since it is the home ministry which has to file an affidavit in the Supreme Court. A clearance from the Centre would clear the case for Jagan in the apex court, sources added.