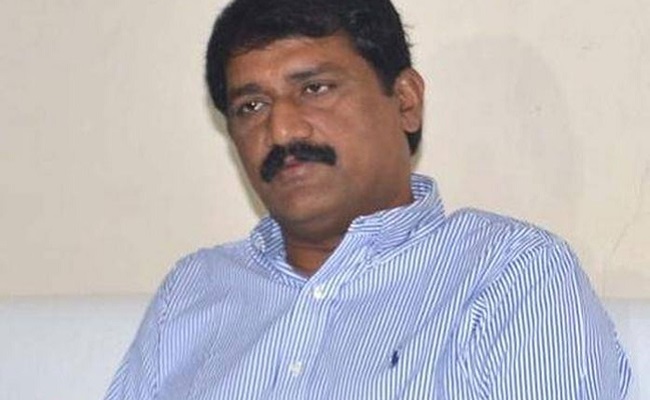 After a gap of more than a year, the talk of entry of senior Telugu Desam Party leader, former minister and Visakhapatnam (north) MLA Ganta Srinivasa Rao into the YSR Congress party has gained momentum again in the political circles.
YSRC president and chief minister Y S Jagan Mohan Reddy is understood to have given the green signal for the entry of Ganta into the party during a recent review of the party affairs of the constituency at Tadepalli.
Senior YSRC leader in-charge of the party in Visakhapatnam and Tirumala Tirupati Devasthanams chairman Y V Subba Reddy has reportedly given an indication to the party leaders on Saturday, confirming the entry of the TDP MLA into the YSRC.
Sources said after maintaining silence for over a year, Ganta had been in touch with the senior leaders of the YSRC again, sending feelers about his entry into the party. Finally, the chief minister gave a nod for admitting him into the party, sources said.
Though Ganta's entry into the YSRC was in the news a couple of years ago, it did not materialise due to stiff resistance from two leaders – YSRC general secretary V Vijay Sai Reddy and former minister Avanti Srinivas.
After making a desperate attempt, Ganta also withdrew his plans and started taking active interest in the TDP activities.
He also met party president N Chandrababu Naidu a couple of times and even took part in party's Mahanadu programmes.
But the former minister was reportedly making backroom negotiations with the YSRC leaders.
The decision of Jagan to move his administrative capital to Visakhapatnam expedited Ganta's decision, as he realised that the TDP's campaign for Amaravati might spell a doom for his political career.
Senior minister from north-coastal Andhra Botsa Satyanarayana is learnt to have taken the initiative in bringing Ganta into the YSRC.
At the same time, Jagan's decision to replace Sai Reddy with Subba Reddy as the party in-charge of Visakhapatnam affairs also helped Ganta.
It is learnt Jagan has promised the party ticket to Ganta from Bheemili assembly constituency in the next assembly elections.
It remains to be seen how Avanti Srinivas would react to the entry of Ganta into the YSRC.