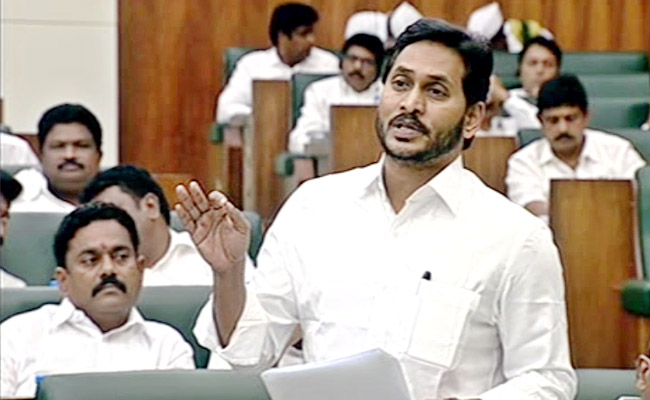 The re-naming of NTR Health University headquartered in Vijayawada by the Jagan Mohan Reddy government after the chief minister's father and former chief minister late Y S Rajasekhar Reddy has kicked up a controversy.
The decision was taken overnight by the Jagan government after clearing the draft bill within hours. It was ratified by the state cabinet which was held online on Tuesday night and the bill was introduced in the state assembly on Wednesday.
As expected, the Telugu Desam Party members created a ruckus in the state assembly and disrupted the proceedings. They gave a notice for an adjournment motion on the renaming of the health university, but Speaker Tammineni Sitaram rejected it outright.
The Speaker told the TDP members to express their opinion when the discussion on the bill takes place. Resisting the move, the TDP members stormed the Speaker's podium, tore away the bill copies and raised slogans, demanding that the government withdraw the bill.
But the Speaker continued with the question hour amidst slogan shouting and disruption of proceedings by the TDP members. With the situation going out of hands, the Speaker suspended the TDP members for the entire day.
Several other parties also protested against the changing the name of NTR University of Health Sciences after YSR.
"It is totally unwarranted. Jagan is unnecessarily creating controversies with his strange decisions," CPI (M) state leader P Madhu said.
YSRC leader and state minister Jogi Ramesh said the TDP leaders had no moral right to talk about NTR, as they were the ones who had pelted stones and chappals at the departed leader.
"If at all there is anybody who has affection and respect towards NTR, it is Jagan Mohan Reddy. That is why, he has named Vijayawada district after NTR. Since the university is about health sciences and YSR had done a lot for the health sector, it is being named after YSR," Jogi Ramesh said.