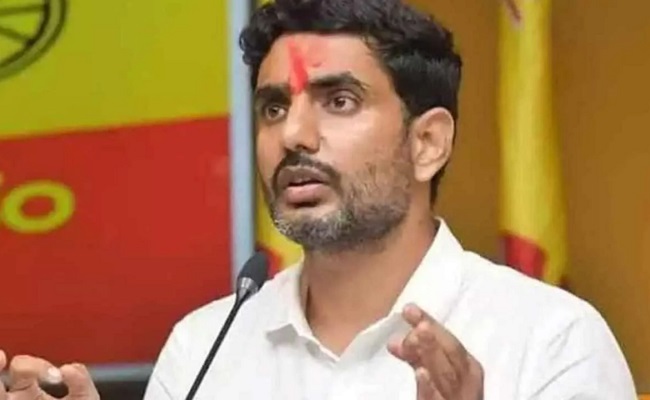 Even as the suspense continues over the permission by the Andhra Pradesh police department for the proposed padayatra of Nara Lokesh, Telugu Desam Party general secretary and party president N Chandrababu Naidu's son starting January 27, the TDP is making massive preparations for the yatra.
According to party sources, the TDP has recruited a core team of youngsters and seniors with 750 people, who would be monitoring Lokesh's padayatra, starting from Kuppam in Chittoor district to Ichapuram in Srikakulam district covering a distance of around 4,000 km over a period of 400 days.
The team will be divided into different groups who would be entrusted with various responsibilities, including implementation of the route map and making any changes according to the situation,
They would also look into the reception of Lokesh by the local leaders wherever he goes, arrangement of meetings with the local people, public addresses, his night halts, provision of medical and food facilities at the camps, vehicle arrangements and media publicity.
A specialized core team will be handling preparation of Lokesh speeches depending on the local situation and the issues he should raise during the padayatra.
"Since it is for the first time that Lokesh would be reaching out to people in a big way, there should not be any hiccups in his speeches that might lead to negative publicity," sources said.
Besides, a strong team of 14,000 regular IT professionals and non-resident Indians has been identified to assist Lokesh in the campaign.
They would take care of the social media publicity both in India and abroad.
"While the core-team of 750 workers are on rolls with regular monthly payment, the 14,000-odd team members would only do voluntary service for Lokesh without any expecting any monetary gains," sources added.
The TDP leaders are fuming at the dilly-dallying by the police to give permission to Lokesh padayatra, though it was announced 40 days ago and permission was requested more than two weeks ago.
"Till January 20, the DGP did not respond and after I sent a reminder, the next day he sent a letter to me seeking all the details like who will be meeting Lokesh and where," TDP politburo member Varla Ramaiah said.