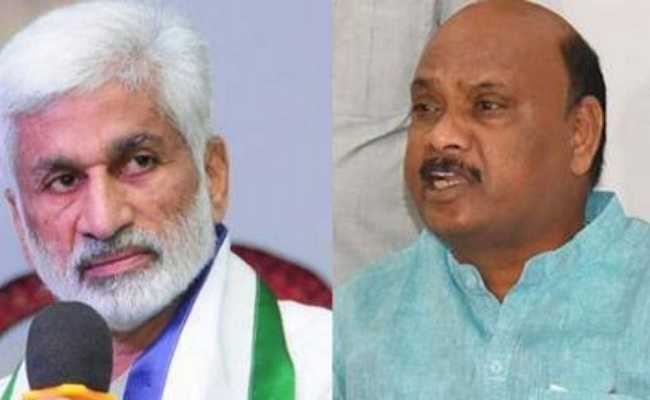 The political slugfest in Andhra Pradesh between ruling YSR Congress party and opposition Telugu Desam Party leaders is going to the ugly extremities, making the people wonder whether these leaders have ceased to be in a civilised and cultured society.
These leaders are virtually bombarding social media with their vulgar attacks and counter attacks, without even taking into consideration whether the rivals they are attacking are men, women or people in respectable positions.
Take the case of state industries minister Gudivada Amarnath. He made some vulgar comments against Telugu Mahila (TDP women's wing) president Vangalapudi Anitha at the YSRC meeting on Monday.
"These days, Anitha has been repeatedly saying that TDP president N Chandrababu Naidu is not a 72-year-old man, but a young man of 27 years. How can she vouch for Naidu's youth?" Amarnath asked, in an obvious indecent insinuation.
He also asked Anitha why Naidu's 35-year-old son Lokesh was not able to perform like his father, who she says, was working like a 27-year-old young man.
And YSRC general secretary and Rajya Sabha member V Vijay Sai Reddy appears to have given up all kinds of decency and decorum in his social media attacks on the TDP leaders.
For the last few days, he has been indulging in the ugliest war of words with TDP leader Ch Ayyanna Patrudu.
Of late, Sai Reddy started attacking senior legislator Gorantla Buchaiah Chowdary. Describing Buchaiah as "Yellow-light broker gadu," the YSRC leader said the TDP legislator would regularly watch blue-film bits on his mobile and forward them to others.
"If Ganjayi Patrudu disrobes women, do you want to forward those bits also to others and cash in on them, Buchi gaa?" he asked.
"Irrespective of how many times you win the elections, you are a dirty got, Buchi gaa. You will just bark at the behest of others, but you don't have your own individuality. Forgetting that you were encouraged in politics by NTR, you licking the boots of a back-stabber," Sai Reddy said, adding that the TDP legislator was worse than a pig moving in sewerage.
Gorantla reacted strongly to Sai Reddy's ugly comments.
"You should have been sent to mental hospital, not Rajya Sabha. I don't know what kind of language you will speak with your children, but you have degraded the stature of a Rajya Sabha member," he said.
The TDP leader said even a vagabond going on the road also would not post such vulgar and indecent comments on the social media.
"It is an insult to the people of Telugu states if you continue as Rajya Sabha member. Your tweets are as good as crow shit," Buchaiah Chowdary criticised.