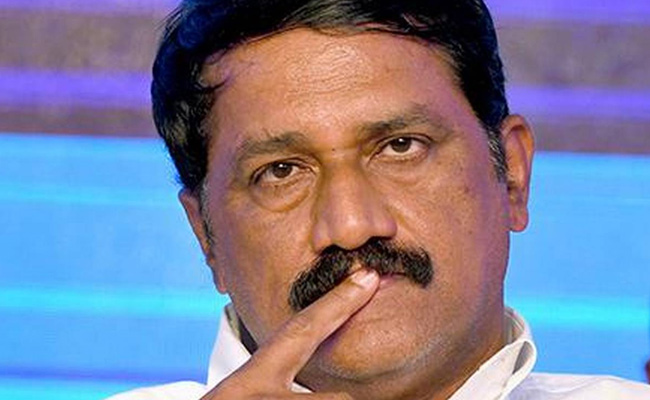 Former minister, Telugu Desam Party legislator from Visakhapatnam (north) Ganta Srinivasa Rao appears to have decided to maintain a low profile, apparently because he is going through a bad phase politically.
He has been keeping away from active politics, despite being an MLA, because his own party has been ignoring him ever since he started making attempts to defect to the ruling YSR Congress party.
But unfortunately for him, his attempts to enter the YSRC have also failed. So, he has virtually become a proverbial "na-ghar-ka-na-ghat-ka" character in politics. Added to his woes, he has been facing troubles from banks for defaulting on loan payments.
So, he thought it is better to remain low-profile in politics for some time and wait for the right time to stage a comeback. The other day, Ganta celebrated his birthday in Visakhapatnam, which was completely a low-key affair.
In the past, there used to be a massive hungama in Viskahapatnam like putting up of flex boards, erection of cut-outs and for his birthdays, But this time, there was no such activity, but for his close followers who made some noise.
Ganta has been conspicuously absent in the ongoing winter session of the state assembly, which has been witnessing furious debates and the TDP has been putting up aggressive posture. Yet, he preferred to stay out.
Despite his absence, Ganta wished that the assembly session should have productive and fruitful discussions on public issues. It was rather surprising to listen to such preaching from the otherwise active leader.
But what is surprising is the way Ganta made diplomatic comments, praising both the ruling party as well as the opposition. He said chief minister Jagan Mohan Reddy was a sincere leader who always struggled to do something for the people of the state.
At the same time, Ganta also lavished praise in TDP president N Chandrababu Naidu, describing him as an efficient and experienced leader of opposition.
He strongly wished that both Jagan and Naidu should discuss the people's issues and find a solution to their problems.
What does it indicate? Does Ganta want to convey the message that he is a neutral leader and doesn't belong to any party? His own followers are said to be in a state of confusion as to which party he belongs to!