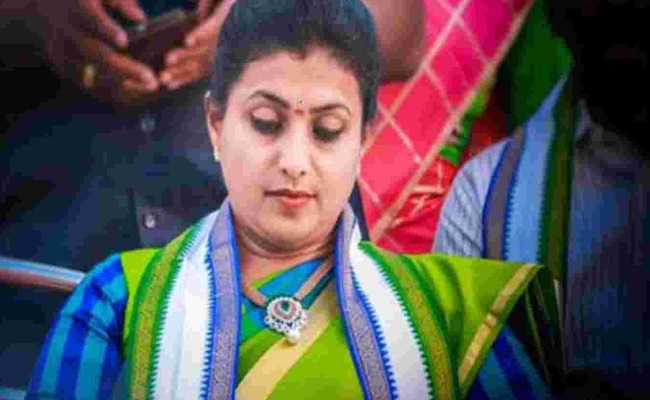 Telugu Desam Party president and former Andhra Pradesh chief minister N Chandrababu Naidu's talk of the possibility of early elections to the state assembly evoked sharp reactions from the YSR Congress party led by chief minister Y S Jagan Mohan Reddy.
During his ongoing tour in Kuppam assembly constituency in Chittoor district, Naidu asked the party leaders and cadre to be prepared for the early elections to the assembly, as there has been such a talk in the political circles that Jagan would follow his Telangana chief minister K Chandrasekhar Rao's model of going in for snap polls.
Senior YSRC leader and advisor to the state government Sajjala Ramakrishna Reddy has pooh-poohed Naidu's talk. He said there is no such possibility and the assembly elections would be held as scheduled in 2024. He alleged that Naidu was too hungry for power to ask for early elections.
But the sharper attack came from firebrand YSRC MLA from Nagari and actress R K Roja. She wondered why Naidu was talking about early elections, as the TDP doesn't have even remotest chances of winning any seats.
"Forget about the early elections to the state assembly. Naidu should first test his own luck in Kuppam. He should resign from his assembly seat and contest the by-elections from Kuppam. Let him win and then talk about early elections," Roja said.
She said Naidu was running around Kuppam, after being beaten black and blue in the local body elections, unable to face the onslaught of Jagan.
"Naidu has hardly done anything for the people of Kuppam all these years. After facing the debacle in the local body polls, he is now constructing a house in Kuppam," she ridiculed.
Roja said whether it was early elections or by-elections, the people are firmly with Jagan.
"Let Naidu move heaven and earth, the people of Kuppam would vote only for the YSRC, as Jagan has been implementing welfare schemes in full swing. Let Naidu resign from his seat, we shall prove which party has the people's support," the Nagari MLA said.