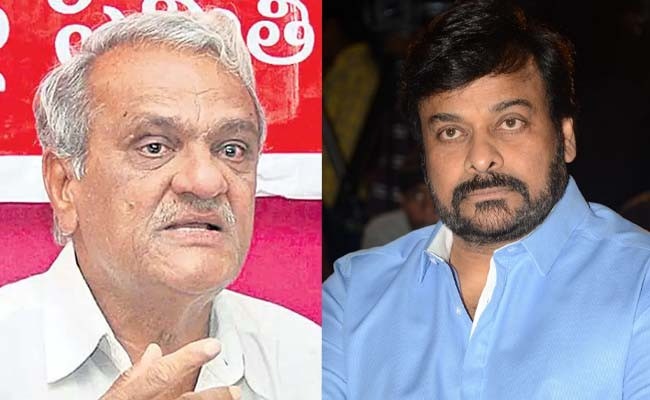 Communist Party of India national secretary K Narayana, who is known for his loose tongue and controversial comments against everybody, was forced to withdraw his unsavoury remarks against megastar and former MP Chiranjeevi, after he came in for sharp attack from the fans of mega family.
Narayana said he was withdrawing the comments he had made against Chiranjeevi, which he said were because of the language problem.
"It was a mistake because of the language errors. I have close relationship with Chiranjeevi and his family and it is very common to make criticism in politics," the veteran leader said.
It may be mentioned that Narayana found fault with Chiranjeevi to attend the meeting of Prime Minister Narendra Modi at Bhimavaram for the launch of 125th birth anniversary of revolutionary freedom fighter Alluri Sitarama Raju and unveiling of his statue.
"Instead of calling superstar Krishna, who had introduced Alluri Sitarama Raju to the rest of the world with his blockbuster movie, they called a "chillara beragadu" (cheap bargainer) like Chiranjeevi on the stage and made him sit beside the Prime Minister," Narayana said.
He also made a sharp comment against Pawan Kalyan, saying the power star was like a landmine and nobody knew when he would explode. This has triggered wild protests from the mega fans.
On Tuesday, Chiranjeevi's younger brother Nagababu gave a strong retort to Narayana through twitter.
"Jana Sainiks and mega fans are agitated over some mindless and mad comments made by some people. What I want to tell these boys is that this CPI Narayana has stopped eating rice for a long time and has been consuming dry grass and garbage. So, all the mega fans should go to him, make him stop eating grass and give him some food. At least then, he might get back to senses and behave like a human being," he tweeted.
Narayana requested the fans of the megastar and power star, besides Kapu Nadu workers, to forget his comments and forgive him.
"I am getting a lot of phones on my comments. I request them to leave the dispute at this stage," he said.
The CPI leader said Chiranjeevi, too, had been a politician and he should learn to take the criticism sportively.
"I request him not to drag the issue further," he added.