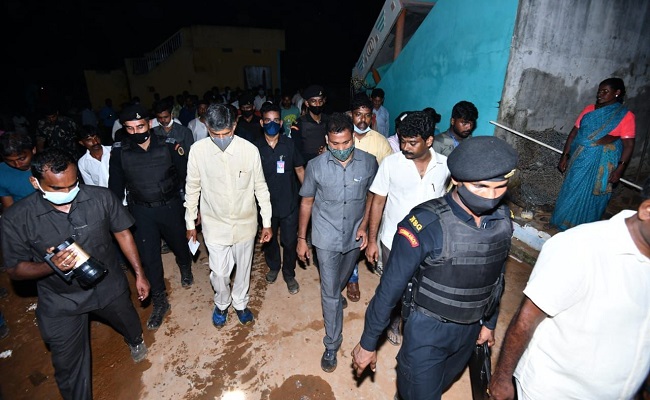 Chandrababu Naidu has come out on roads after his famous crying episode. He visited Kadapa to know the woes of flood victims.
But surprisingly, he started giving some statements with an intention to provoke the public against the government. But the sane people frowned at his baseless demands.
Chandrababu said that the government has given Rs 1 Cr each to the LG Polymers victims but it is now escaping by announcing a Rs 5 lakh to the flood victims.
The senior politician with 40 years experience ignored the fact that the government made LG Polymers company pay that amount to the victims. But the floods are part of natural calamity. So, how can the government pay Rs 1 Cr from the public exchequer? There is a lot of difference between a factory accident and a natural calamity.
Chandrababu tried to make some anti government statements but everything proved pale.
Surprisingly, the flood victims were shocked by the ignorance of Chandrababu Naidu in demanding Rs 1 Cr from the government on behalf of them. Sources say that the people cracked jokes on Chandrababu's wild demands.
A flood victim recalled, "Chandrababu gave only Rs 500 (rupees five hundred only) to the Titli cyclone victims in 2018. He is now insulting YS Jagan Mohan Reddy's help of Rs 5 lakh to flood victims and demanding Rs 1 Cr. We don't understand what politics he wants to do. He is like a kid both in crying loudly and making childlike demands".
Click Here for Latest Direct-to-OTT Releases (List Updates Daily)