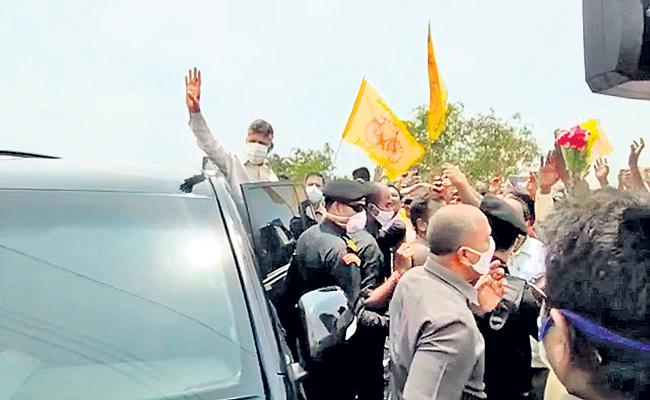 Opposition Leader of Andhra Pradesh, N Chandrababu Naidu returned to Vijayawada from Hyderabad yesterday.
The news assumed significance because he has been staying in his Hyderabad residence due to lockdown restrictions for the last two months.
Two main news dailies have presented different versions on the same development
Eenadu is joyous in reporting that TDP cadre has extended a grand welcome to Chandrababu.
But Sakshi media commented that the TDP workers have violated the lockdown restrictions while welcoming their leader.
Sakshi went on to report that hundreds of workers have gathered near Garikapadu checkpost, they have also welcomed him by gathering in several junctions.
They have not followed the lockdown restrictions, many of them were not seen wearing masks, they did not follow the social distancing measures and gathered in huge numbers on the roads to welcome Chandrababu.
Some party workers said to have taken up motorbike rally and followed Chandrababu's convoy.
Despite repeated requests from the police personnel to follow the lockdown restrictions, the TDP leaders and party workers ignored them.
Chandrababu should have asked his party leaders and workers to follow the lockdown restrictions in a strict manner but he did just the opposite and it is attracting criticism from all quarters.
Meanwhile, YSRCP supporters started trending #ChandrababuSpreadsCorona with thousands of tweets on Twitter to highlight the irresponsible behavior of TDP cadre in the lockdown period.
CLICK HERE!! For the In Depth Updates on all the OTT Content