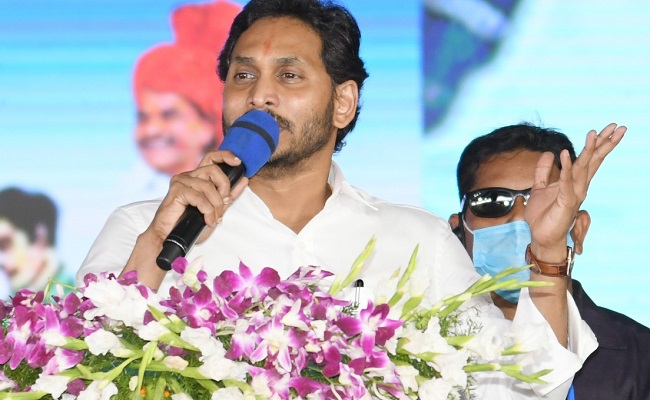 In a virtual election-oriented speech, YSR Congress party president and Andhra Pradesh chief minister Y S Jagan Mohan Reddy on Friday asked the people of the state whether they would vote for the party that would credit money into their accounts or that would loot their money.
"Do you want a government that implements DBT (direct benefit transfer) schemes or a government that that implements DPT (Dochuko, Panchuko, Thinuko – loot, share and eat) schemes?" the chief minister asked the people, while addressing a public meeting after releasing the third instalment of YSR Kapu Nestham assistance at Gollaprolu village in Kakinada district.
He said while the present government was directly crediting the money into the accounts of the beneficiaries of the DBT schemes, the previous Chandrababu Naidu government had indulged in DPT methods with the support of his "gang of four" – Eenadu, Andhra Jyothy, TV-5 and his adopted son.
"Their concept of social justice is DPT," he said.
Stating that politics had stooped to a low level, Jagan said during the Naidu regime, the benefits of welfare schemes were reaching only a few people, that too, only those who were recommended by Janma Bhoomi committees and after payment of kickbacks.
"Now, every eligible person, irrespective of his caste, creed, religion, region, political affiliation and community, is getting the benefits of welfare schemes. Whether they had voted for the YSRC or not, all sections of people are getting the benefits without any corruption and discrimination," he claimed.
The chief minister accused the TDP of spreading canards saying the state was becoming like Sri Lanka by implementing welfare schemes.
"Indirectly, it is indicating that the schemes have to abolished. Do you want them to be scrapped?" he asked.
Jagan said there should be a discussion in every house whether the people want a government that delivers social justice all weaker sections or the one who is concerned about the welfare of only gang of four; a government that sincerely implements its manifesto or the one what dumped the manifesto; a rule that is honest or a rule that is marked by betrayal and lies.
Making a scathing attack on Jana Sena Party president Pawan Kalyan, the chief minister said the actor was indulging in dirty politics only to sell Kapu votes in wholesale to Chandrababu Naidu.